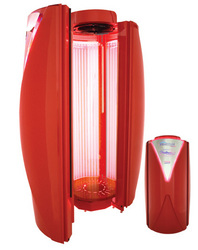 "We're proud to offer only the best-quality tanning lamps and tanning technology for clients and customers."
Lee's Summit, MO (PRWEB) November 24, 2009
Heartland Tanning, Inc., an industry leader in tanning beds and tanning products, is introducing a new stand-up tanning unit and dressing room for better customer service and higher-quality tans. The TanAmerica Sundazzler tanning booth offers a powerful and convenient tanning session, with a tan time of just nine minutes. The dressing room is fully equipped with a floor, ceiling and lighting for ease, comfort and complete privacy. The Sundazzler booth and dressing room allows tanning salons to upgrade their existing equipment for a sleeker appearance and better tanning results.
"Convenience and comfort are two key components to the tanning experience. We want our customers to know they're getting the best results in the most relaxed setting possible. The Sundazzler offers high-quality performance, and with the addition of the dressing room, also allows customers to enjoy privacy and comfort," says Greg Henson, President of Heartland Tanning.
In addition to the new Sundazzler unit, Heartland Tanning continues to offer its premier line of Rave tanning lamps, which has 30 separate configurations compatible with most major equipment brands. The Rave lamps are made to Heartland's specifications by Light Sources, Inc., which makes Heartland extremely confident in the quality and engineering that goes into each of its sunlamp products. The Rave Preferred 160- and 180-watt reflector models showcase Light Sources' proprietary Sol Glass technology for more effective and efficient UV transmission.
"We're proud to offer only the best-quality tanning lamps and tanning technology for clients and customers. Our No Light Policy guarantees that if a bulb burns out in less than 60 days, we'll replace it for free. Customers trust us to help them look and feel their best year-round, so we offer only the best products and services to achieve that goal," says Henson.
About Heartland Tanning:
Heartland Tanning (http://www.tanamerica.com ) is a leading superstore for tanning salons retailing personal and commercial tanning beds, equipment, lotions, merchandise and other tanning supplies. The company carries the most popular tanning beds available on the market and also custom builds beds for its clients.
###