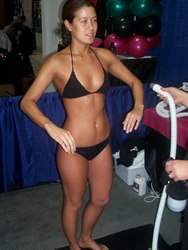 Sunless Spray Tanning is the "Celebrities" choice for a great looking tan.
Glenwood, IA (PRWEB) November 25, 2009
The Sunless Store is now open for business and has two brand new Spray Tanning Solutions.
Tan Imagine and Pure Tan Spray Tanning Solution are the featured spray tanning products. They both contain natural and organic ingredients and are loaded with anti-oxidants.
The solution is air misted onto the body using an Airbrush, or HVLP Spray Tanning System. All this in about 10 minutes. The client will have an instant bronzed look produced by the bronzer in the solution.The tan will develop within 8 hours. Leaving the tan longer to process before showering can deepen the color. After the clients first shower, it is normal for the bronzer to wash away leaving the developed tan.
The color that develops is a beautiful cocoa brown so you look as though you have spent time in the sun. Once you've tried these remarkable solutions, you will be convinced that the combined skin treatment of these products and the brown color, that this will be the solution to promote in your salon.
###