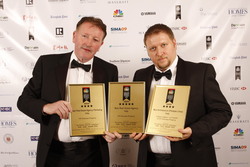 "We are delighted to have had the quality of our properties and our services recognised by the leading exponents in the industry. This is a great honour not only for VFI but also for Southern Italy - Calabria and for the hundreds of clients who have inves
(PRWEB) November 26, 2009
VFI, over the last three years established itself as one of Europe's leading property developers, has a world-wide reputation for the quality of its luxury five star developments in beautiful, unspoilt Southern Italy - Calabria.
VFI Overseas Property, which has offices in London, Dublin, St Petersburg, Moscow, Stockholm and Tunis, scooped the winning entry for the best real estate agency category. VFI Overseas Property's offices in Russia were deemed the best in Europe and VFI were congratulated for their after sales customer service and their impressive professional qualifications.
VFI also won the top European Architecture award for its innovative, unique Calypso Lagoon development at Le Castella on the shores of the Ionian Sea. The five star development, which features all the very latest sustainable environmental advances, turns back the pages of history to the great Pliny for its inspiration.
The company also took top honours too for the best residential marketing campaign in Europe, scoring highly for its impressive promotional portfolio, which was successfully used not only by the company's sales' team but also by a wide network of agents around the world.
VFI Overseas Property's team had flown in from Italy to attend the award ceremony at the Marriott Hotel in Grosvenor Square in central London and were delighted to scoop the three most prestigious awards. The influential CNBC European Property Awards are part of the globally respected CNBC International Property Awards, which have been running for 15 years.
On behalf of VFI Worldwide joint CEO's Antonio Velardo and Harry Fitzsimons were delighted to receive the awards presented by well known sports columnist Des Kelly, a former Editor of the Daily Mirror.
Des Kelly commented: "They have a great team at VFI who always go that extra mile for their clients. That VFI Property Overseas has won these three coveted awards at its first entry is proof that VFI property in Italy is not only able to compete at this level but also triumph within the highly competitive Europe and Africa property arenas."
VFI CEO's commented: "We are delighted to have had the quality of our properties and our services recognised by the leading exponents in the industry. This is a great honour not only for VFI but also for Southern Italy - Calabria and for the hundreds of clients who have invested with our company."
The awards are supported by a host of well respected professional bodies such as FIABCI, NAEA, NHBC and NSR and the awards are judged by an independent team of experts in the property, design and construction fields together with property writers and sponsors.
###