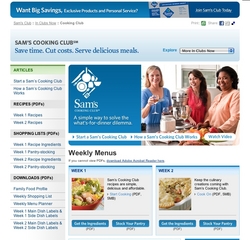 Making festive homemade desserts for about twenty-five cents per serving gives you extra to spend on other holiday items
Bentonville, AR (PRWEB) November 26, 2009
This holiday season, the standard cookie swap is getting a makeover as cooking clubs take to kitchens across the country to bake traditional cookies, candies and sweets together. With families looking to make the most of their holiday budgets, groups of friends in newly-formed cooking clubs are gathering 'round the hearth, aiming to be festive in a new way: baking at home to create delicious handmade gifts.
Nicole Aloni, Sam's Club member and cookbook author, touts the cooking club concept as a viable method for helping families stretch their holiday dollar. "It is a wonderful way to connect with your friends and save some 'dough' — making festive homemade desserts for about twenty-five cents per serving gives you extra to spend on other holiday items," continued Aloni. "You just can't beat that."
While cooking clubs help families save on meal preparation and expense, enthusiasts cite the social connections as equally important. In an effort to help Sam's Cooking Club participants to connect, the warehouse club demonstrates some holiday recipes on video and has launched http://www.facebook.com/samscookingclub for cooking club fans to share recipes and tips with others who enjoy cooking with friends.
In addition, Sam's Club has teamed up with http://www.cookingwithfriendsclub.com to share tips and ideas about how you can cook with others to tackle mealtime, save money, and build friendships. Read more about them at http://www.samsclub.com/cookingclub.
Typically, cooking clubs include three to four friends or family members who pool their money to purchase the ingredients for a week's worth of meals. They then gather at the host's kitchen and prepare everything in a few hours. Nicole recommends choosing a time for everyone to bake together, then expediting the preparation by assigning a "station" to each friend (i.e., mixing, rolling, cutting, etc.), much the way professional kitchens handle their cooking and baking processes.
The Simple Pleasures: Home-Baked Goods as Gifts
Nicole also suggests that baked goods make a welcome gift basket as well. Pair ribbon, a small canister or wicker basket and one of the recipes below to give a gift that costs less and means more. Visit samsclub.com/cookingclub to watch how Nicole and her cooking club friends make decadent biscotti for less then 25 cents per serving. And, find these festive recipes that are low-cost, high-taste:
Go a little nutty, at under 30 cents each.
Try pairing pecans and coconut to produce the perfect dessert bar - sure to be a family holiday favorite.
Treat them to a truffle or two, for less than 20 cents each.
Go gourmet with these decadent truffles — just don't tell your guests how incredibly easy they are to make!
Give them a tea party, for less than 12 cents a serving.
This Russian Tea Cake recipe is easy to make and even easier on your wallet
Find these and more gret tips, ideas and recipes at http://www.samsclub.com/cookingclub
Fan Sam's Club NEW Cooking Club Facebook page: http://www.facebook.com/samscookingclub
###