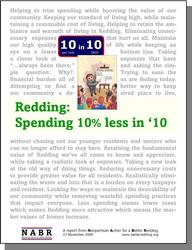 We found a way to ease the burden of our unprecedented difficult economic times by reducing Town spending 10%, but in such a way as to preserve Redding's fundamental values
Redding, CT (PRWEB) November 30, 2009
After a year of critically examining Redding's town budget line-by-line, and looking carefully at this Connecticut town's spending, NABR (Nonpartisan Action for a Better Redding) unveiled its findings to the community. "Redding: Spending 10% less in '10" is the name of the report which is available on its website, http://www.betterredding.org.
Faced with continuous and significant local tax growth, the taxpayer group decided to show that a substantive reduction in town spending can be implemented and accommodated. "It's a substantive reduction, thoughtfully formulated by several dozen resident volunteers" said Frank Scott, leader of the NABR project named "10 in 10."
Scott added: "The foreword and theme of the report is simple and brief: 'We found a way to ease the burden of our unprecedented difficult economic times by reducing Town spending 10%, but in such a way as to preserve Redding's fundamental values: the quality of life in the community, our excellent schools and our environment.' "
"Hundreds of hours of concerted effort made possible this path to lower spending, and thus, lower taxes" added David Bohn, President of NABR. "During the coming weeks we'll talk with residents, answer questions and help all to understand that a major spending reduction is not only possible, but a smart move in these challenging times. We invite taxpayers to visit our website and look at, or download, the report. It's got a two-page summary for a quick read and is loaded with recommendations, data and info about our town," Bohn said.
Redding is located in southwestern Connecticut, has a population of about 8700 and an annual budget of approximately $ 43 million.
# # #