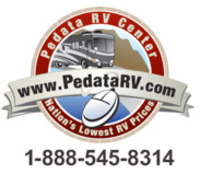 Top 5 Reasons RV's Win Fans, Followers and Full Timers
Phoenix, AZ (Vocus) November 30, 2009
Pedata RV Center releases the "Top 5 Reasons RV's Win Fans, Followers and Full Timers" which is a list of benefits that RV owners enjoy. The fact that life in a recreational vehicle is different continues to draw more interested consumers. Some people are interested in the RV lifestyle as a ticket to travel, others make it a daily habit. Here's why…
Pedata's Top 5 Reasons RV's Win Fans, Followers, and Full Timers
1. RV's allow the chance to change directions on the spur of the moment without fear that you won't be able to find a place to stay.
2. RV's allow the freedom to change your plans on the spur of the moment without losing hefty deposits.
3. RV's allow for a cross-country family road trip with all the amenities of home including kids' naps, easy bathroom access, games, food, and more at your fingertips.
4. RV's allow for a different type of travel you can't get from an airplane. The wondrous scenery from state to state is entertainment in itself much less roadside attractions along the way.
5. Many RV campgrounds in this country offer a taste of life outdoors. Go fishing in the morning, play board games after breakfast, hike a trail you've never seen before lunch, share hot dogs off the grill with new friends for lunch, drift in a canoe while you nap in the afternoon, go into town for seafood for dinner and then make s'mores over a campfire in the evening…all in one day and without a huge dent to your budget.
Gerard Pedata of Pedata RV Center said, "I think what people like most about the RV lifestyle is that a motorhome provides flexibility. They can outfit their RV to suit their own lifestyle, their own hobbies, their own likes and dislikes. If they love TV they can arrange to have a ton of channels. If they hate TV they never have to watch it again. If they love to cook they can have a nicely appointed kitchen. If they hate to cook they never have to step foot in a kitchen again."
For more information on Pedata RV Center, or current trends in the RV industry contact Gerard Pedata, sales at pedatarvcenter dot com or by phone at: 1-888-545-8314 or 520-807-0900. Or visit Pedata RV Center online at http://www.pedatarvcenter.com.
Contact: Gerard Pedata
Company: Pedata RV Center
http://www.PedataRVCenter.com
Phone: 1-888-545-8314 or 520-807-0900
Email: sales (at) pedatarvcenter.com
###