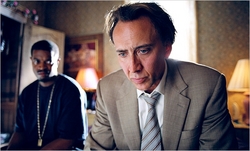 Tyler Perry's, House of Payne on TBS is next on the radar.
Tampa, FL (PRWEB) December 8, 2009
Watch this actor: As he piles up roles in all the right places, critics say the intense and absorbing actor Lucius Baston, has film staying power; and is credibly paving his way among a few of Hollywood's brightest stars.
Some actors seem to come out of nowhere, making memorable appearances in films that cement their careers; That's just how it looks, the fact is: the actors that stick around have been paying their dues, over years of hard work and sweat.
Lucius Baston is no exception, except that, this newcomer has been landing considerable roles, right from the start of his busy career; Go figure. Like Kobe Bryant does with Basketball, Baston slam dunks the role of Deshaun "Midget" Hackett and carries his own weight impressively next to Nicolas Cage.
"I love what I do, I give absolutely everything I have to the characters I'm presenting, every single time; whether it's an audition or a role. I take the business very seriously. I'm in it for the long haul," Baston said. "Tyler Perry's, House of Payne on TBS is next on the radar."
Lucius Baston played alongside Alan Thicke and Michael Winslow, in the 2009 medical Comedy "RoboDoc". And played in a notable number of smart roles over the last few years, in films including, "The Touch", "Unspeakable", "Father of Lies", "Bad lieutenant: Port of Call New Orleans", starring Nicolas Cage and Eva Mendes; which is playing in theaters now, and the upcoming LifeTime Movie Network's "The Wronged Man", starring the acclaimed Actress Julia Ormand.
"Bad Lieutenant: Port of Call New Orleans" is a 2010 Spirit Awards Nominee for Best Cinematography, and Oscar speculators say a "Best Actor" Nominee should come from this camp. Regarding Baston's Hollywood forecast: Nicolas Cage said, Lucius Baston is ready.
Lucius Baston lives in Tampa, Florida. His home town is South Richmond Hill Queens, NY
Publicist, Billie Jordan said, "Watch this actor; he will continue to make great strides in the film industry."
For interviews, or additional information contact Billie Jordan,
Brownstone Publicity Hollywood (323) 383-2687
###