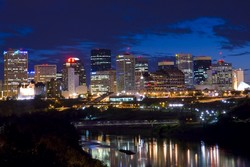 Cities received awards for harnessing dining and entertainment as an economic engine to drive revitalization and increase city funds.
Santa Cruz, CA (PRWEB) December 1, 2009
Many holiday shoppers, diners and revelers will flock to local downtowns and main streets to celebrate this season of merriment. As the good times roll at local events, restaurants, pubs and nightclubs, city officials will be hard put to keep people safe.
At its first annual Sociable City Awards Program, the Responsible Hospitality Institute (RHI) recognized nine North American cities that are exemplary models for safe and vibrant nightlife. This premiere event set the standards for a 'sociable city' to which future cities will strive.
"The cities that received awards are outstanding models for planning and managing nightlife. Their city leaders are at the forefront of innovation for harnessing dining and entertainment as an economic engine to drive revitalization and increase city funds," commented RHI president, Jim Peters.
Nine cities in total were honored at RHI's Sixth Annual Networking Conference in Austin, Texas. During the November 13 ceremony, awards were presented as follows:
– 2009 Sociable City of the Year: Edmonton, Alberta Canada.
– Outstanding Achievement in Vibrancy: Downtown Long Beach, California.
– Outstanding Achievement in Safety: Gainesville and West Palm Beach, Florida shared this award.
– Merit Awards in Safety and Vibrancy: Pittsburgh, Pennsylvania; Santa Rosa, Livermore, and San Jose, California.
RHI's board (representing national hospitality, safety, development and community organizations) reviewed applications and selected winners using the following criteria:
Safety:
– Collaborative strategies and partnerships
– Enforcement officers trained for hospitality zones
– Concierge governing to assist new and existing business owners
– Proactive compliance education and training
– Patron responsibility campaigns
– Alternative late-night transportation options
– Public services supporting an active nightlife
Vibrancy:
– Recognition of the value of the nighttime economy
– Investment in nurturing musicians and other entertainment talent
– Multi-cultural and/or multi-generational activities
– Enhanced lighting and pedestrian safety
– Smooth transition between day, evening and late-night activity
– Public space entertainment and enhancements
– Coordinated promotion of the hospitality zone as a vibrant destination
Visit http://www.RHIevents.org/conference/city/award or call 831.469.3396 for additional information.
The Responsible Hospitality Institute (RHI) assists businesses and communities create safe and vibrant places to socialize. RHI provides technical assistance that builds local capacity, incubates and shares cutting-edge information and proven strategies, and links a broad-based network of professionals who plan, manage and police dining and entertainment districts.
Innovative * Collaborative * Inclusive
http://www.RHIweb.org or 831.469.3396.
###