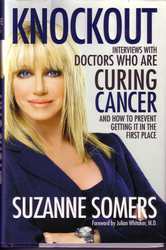 The vibrational frequencies that are determined by sophisticated equipment like ONDAMED is perhaps a search for real truth. This is the future of medicine.
Cornwall, NY (PRWEB) December 2, 2009
In her new book KNOCKOUT, Interviews with Doctors Who Are Curing Cancer, And How to Prevent Getting It in the First Place, Suzanne Somers interviews doctors who are successfully using the most innovative cancer treatments--treatments that build up the body rather than tear it down. This is a subject Somers writes about as well as anyone--if not better--since the entrepreneur-turned-activist-turned-best-selling-author has gone toe-to-toe with the fear of this disease and came out stronger than ever to bring the message to millions.
Now Suzanne shares her personal choices and outlines an array of options from doctors across the country. And one of those choices is ONDAMED®.
"Truly Miraculous!"
That's what Suzanne Somers calls ONDAMED in her previous best-seller BREAKTHROUGH, Eight Steps To Wellness. And now, in her newest book KNOCKOUT this is what she has written about ONDAMED:
"Ondamed is a German biofeedback device that finds the blockage in the patient--whether it be mental or physical--and relieves it, putting the body back into homeostasis," says alternative medicine guru Burton Goldberg.
Replies Suzanne Somers: "I have had many Ondamed treatments. In fact, I attribute my ability to recover from the trauma I wrote about at the beginning of this book to this device. It rebalanced my energies and allowed my body to recover from the emotional and physical trauma."
"There is always enthusiasm and energy around breakthroughs and new advances in natural healing," writes Suzanne Somers in her previous New York Times #1 best-selling book BREAKTHROUGH. "I came across a marvelous invention called the ONDAMED machine. This is a very sophisticated new piece of equipment you need to urge your doctor to purchase. I now use the ONDAMED machine and the results have been truly miraculous. In just a short period of time I am no longer experiencing pain, swelling, or tenderness in the breast."
In the book Suzanne Somers further expounds: "ONDAMED is a cellular-electrical-biofeedback machine and purports to have miraculous effects for acute-pain management and lymphatic congestion, among other things. This machine uses low-level pulsing magnetic fields that induce the flow of micro-currents within the tissues of the patient. In other words, it's able to locate underlying dysfunction and provide a treatment of the patient. It can pinpoint the location of the pain, which doesn't necessarily mean where the pain manifests. Your pain could be in your knee but the ONDAMED machine can tell where the pain originates, which might be in your kidney. Safe and noninvasive, it promotes improved circulation, wound healing, bone regrowth, and pain relief, for conditions such as fibromyalgia. These conditions resolve quickly, as though the body simply needs a small signal to jump-start the healing process … I am using ONDAMED for my own personal health and wellness. Profound technology."
"The future of medicine."
Suzanne Somers is not the only ONDAMED believer. Dr. Stephen Sinatra, famed cardiologist and alternative medicine advocate, says "The vibrational frequencies that are determined by sophisticated equipment like ONDAMED is perhaps a search for real truth. This is the future of medicine." And, says esteemed surgical oncologist Dr. Michael Torosian: "Our results with the ONDAMED are a clear testimony to the power of bio-physical medicine and first-class technology. It is exciting to see how patients, even with chronic health problems, continue to experience life-changing benefits from the ONDAMED technology."
"ONDAMED has transformed thousands of lives all over the globe," says Ondamed CEO Silvia Binder. "And we are humbled and thankful to witness these transformations to health and wellness."
You might say when it comes to battling illness, Suzanne Somers and ONDAMED are a "Knockout" combination.
Thousands at A4M, December 9 - 12 in Las Vegas, will get to experience the "anti-aging breakthrough that works from the inside-out."
At the 17th Annual World Congress On Anti-Aging Medicine & Regenerative Biomedical Technologies in Las Vegas, December 9 -12, over 6,000 medical professionals from around the globe will get an opportunity to experience ONDAMED -- the anti-aging breakthrough that goes beyond other anti-aging solutions that merely skim the surface.
About: ONDAMED® is a battery-powered biofeedback device that a medical practitioner uses to determine which frequencies of sound, as well as the accompanying weak pulsed electromagnetic fields, cause a response in a patient's autonomic nervous system. Temporary stimulation by these frequencies, combined with the patient's cognitive and non-cognitive participation, promotes relaxation, muscle re-education, and rehabilitation that returns the body to its former state of wellness.
About: Suzanne Somers' best-selling book "Breakthrough" is an outstanding collection of interviews with top leading anti-aging doctors who share their beliefs regarding the many new treatments available to alleviate the degenerative process endured while growing old. Ms. Somers writes about what makes us age, what makes us sick, and how ONDAMED's breakthrough technology delivered "truly miraculous" results.
About: A4M is the largest and most influential international conference and expo in preventative medicine and bio-medical technologies.
To find out more, call (845) 534-0456
Excerpts from KNOCKOUT--Interviews with Doctors Who Are Curing Cancer, And How to Prevent Getting It in the First Place by Suzanne Somers, © 2009 and Breakthrough: 8 Steps to Wellness by Suzanne Somers, © 2008 by Suzanne Somers. Published by Crown Publishers, an imprint of the Crown Publishing Group, a division of Random House, Inc., New York.
###