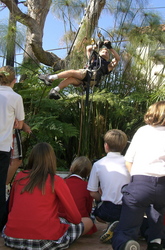 "I'll be ready by next summer," said Wampler. "But it will require a huge amount of patience, skill, and tenacity on my part for this to come together.
San Diego, CA (PRWEB) December 1, 2009
Stephen Wampler is getting ready to climb a mountain. Wampler, who has used a wheelchair for mobility since birth, is about to do something that no one with Cerebral Palsy has ever done before. He will scale the sheer granite face of Yosemite National Park's legendary peak, El Capitan, noted for more than a century for the challenge it presents even to climbers without disabilities. Steve's training, preparation, and custom-designed equipment will all be tested in September of 2010.
The entire climb will be filmed for a documentary that will be used for fundraising by The Stephen J. Wampler Foundation, which helps kids with disabilities reach their full potential as members of society.
The climb itself will also be an important fundraiser, but it is no mere photo opp. Steve will need to complete an extraordinary 20,000 pull-ups to scale El Cap, a towering mountain that is twice the height of the Empire State Building. People from all over the world are being asked to donate $100 per pull-up to support his unprecedented effort.
The climb will be the culmination of months of physical training and coaching provided by expert climbers. Steve will use an array of ropes, pulleys, a paragliding harness, and custom-designed high tech equipment to conquer El Cap. He will also need to be prepared mentally as well as physically to meet this challenge of a lifetime.
"I'll be ready by next summer," said Wampler. "But it will require a huge amount of patience, skill, and tenacity on my part for this to come together. That's why working with companies like CMC Rescue is so important. This is really a team effort on the part of a number of dedicated people who are willing to give so much to help the kids who will really benefit from our collective efforts."
As part of fund-raising efforts for The Wampler Foundation, a new organization that will help kids with disabilities live more productive and fulfilling lives, the organization's website will gather donations to support the climb and also offer other opportunities for contributing to the Foundation's activities through other means. Nationally known celebrities such as Will Farrell and Will Forte of Saturday Night Live (SNL) have recorded taped testimonials for the cause and Paul Reiser of the hit comedy series "Mad About You" is also enthusiastic about the efforts Steve and his wife (and co-founder of the Foundation) Elizabeth are doing to make a difference in the lives of kids with disabilities. As more and more people are beginning to appreciate, these kids have much to contribute to society when given the opportunity and encouragement they need to succeed.
"The outpouring of support we've received since we began this adventure has been beyond anything we could have imagined," said Elizabeth Wampler. "And this is only the beginning. This is our life's work. Everything in Steve's life has brought him to this moment and the climb is symbolic of the years of effort it has taken us get here.
The Foundation, several years in planning, began its work earlier this year. After ten years of running summer camps for children and teens with disabilities (Wampler Kids), Steven and Elizabeth Wampler saw the need to expand on the work they had begun. They hope to help provide more opportunities for kids with disabilities and their families in many ways--from providing green housing for the disabled to sponsoring grants for outdoor wilderness programs, education, and employment.
About the Wampler Foundation
The Stephen J. Wampler Foundation was established to provide outdoor wilderness programs to children and teens with physical disabilities in an environment where they are challenged to learn new physical, mental, and social skills. The Foundation is also involved in many other areas that support physically challenged youth--from providing individual guidance to developing green vacation housing for kids with disabilities and their families.
Steve Wampler's is a moving example of someone who has created a meaningful life, despite being disabled by Cerebral Palsy from birth. He serves as an inspiration to the young people who have experienced his life-changing programs or know his personal story. His record of accomplishment also has had a profound effect on their families and the Foundation's supporters. His leadership and vision is the driving force behind the Foundation and a key factor in its success.
Many of those that the Foundation helps are in desperate need of direction and attaining greater self-confidence. The Stephen J. Wampler Foundation's goal is to help as many children with disabilities as possible to have the same opportunity that Steve has had to lead a more meaningful and productive life. All sponsored programs promote independence, responsibility, and the confidence kids with disabilities need to succeed.
###