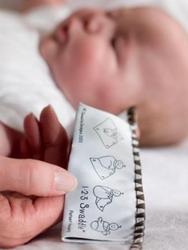 "Creativity, innovation, hard work and determination is rewarded even in a down economy, and has earned SwaddleDesigns a position as one of the fastest growing private companies in the USA," said Lynette Damir, RN and Founder of SwaddleDesigns
Seattle, WA (PRWEB) December 9, 2009
SwaddleDesigns®, the ultimate destination for stylish baby blankets and fashionable layette essentials, announced today that the company has been named as a member of the Inc 500. Over the past three years SwaddleDesigns grew by 580%, and the trend-setting, Seattle-based company introduced a multitude of useful and fashionable products that help new parents care for and comfort their babies.
Known for its innovative, patent pending, and award-winning products including the Ultimate Receiving Blanket®, Baby Burpies®, Baby Lovie®, zzZipMe Sack™, and very lightweight Marquisette Swaddling Blanket™, SwaddleDesigns line includes exclusive designer prints with SwaddleDesigns signature style.
"Creativity, innovation, hard work and determination is rewarded even in a down economy, and has earned SwaddleDesigns a position as one of the fastest growing private companies in the USA," said Lynette Damir, Registered Nurse and Founder of SwaddleDesigns. "With the enthusiastic support of hundreds of thousands of moms and dads, and strong relationships with leading retailers such as Nordstrom, SwaddleDesigns has become a beloved brand and achieved tremendous growth."
"Our story is a wonderful example of the power of 'word-of-mouth' endorsements, which I affectionately call 'the mommy network.' Our phenomenal growth has been primarily driven by moms who recommend and give SwaddleDesigns blankets to their friends, as well as retail sales associates who recommend SwaddleDesigns as the ultimate welcome baby and shower gift," stated Lynette Damir. "We are very fortunate to have a passionate following of customers to spread the word about SwaddleDesigns."
SwaddleDesigns line includes innovative, high quality, and stylish layette essentials that are affordable, durable, multi-functional, and deliver long-lasting value. SwaddleDesigns considers every product the company ships to be a special gift for a precious baby and family. Due to their commitment to quality each piece is inspected at their Seattle sewing facility and again in their Seattle warehouse before shipping to a consumer or retailer. SwaddleDesigns' made in USA strategy continues to be an important part of its success.
Over the years, SwaddleDesigns has benefited when leading celebrities such as Gwyneth Paltrow, Marcia Cross, and Shiloh Jolie-Pitt have been photographed with a SwaddleDesigns product. "Everyone on our team is excited to see an image of a celebrity in a major magazine with one of our products, including the celebrity baby most often photographed with a SwaddleDesigns product - Shiloh Jolie-Pitt. Shiloh has been photographed over a dozen times with a SwaddleDesigns Baby Lovie® in her hand," shared Lynette Damir when asked about the importance of celebrity endorsements. "While the celebrity photos are very fun, I am especially delighted when a mom tells me that she loves SwaddleDesigns Blankets and she has 5 or 8 or 10 blankets! And then, proudly tells me that she gives our blanket to all her pregnant friends."
Affordable Everyday Essentials
SwaddleDesigns offers an extensive assortment of everyday essentials including a Certified Organic Collection with a focus on style and unmatched quality. SwaddleDesigns line includes an assortment of designer colors and prints to allow moms to mix and match and make their baby's layette personal and special. SwaddleDesigns products can be found at eSwaddle.com, a multitude of online retailers and thousands of locations in the USA and countries around the world. SwaddleDesigns layette essentials range from $8 - $48.
SwaddleDesigns Executive Team
Lynette Damir - Founder, CEO and Creative Director. Lynette is a registered nurse and mother of two. She was inspired to create stylish and functional products to help parents care for their new babies. Lynette uses her medical background and her design education from the Art Institute of Seattle to design award-winning products like the Ultimate Receiving Blanket, zzZipMe Sack, and Marquisette Swaddling Blanket. Lynette designs SwaddleDesigns' exclusive prints and she selects every component based on its color, texture and quality. Today, SwaddleDesigns offers new parents over 400 items with many designer collections.
Jeff Damir is President & COO of SwaddleDesigns. Jeff is a high tech executive with a Stanford MBA and over 10 years of start-up experience. Together, Lynette and Jeff lead the company with their complementary skills and experience.
Methodology
The Inc. 5000 is ranked according to percentage revenue growth from 2005 through 2008. To qualify, companies must have been founded and generating revenue by the first week of 2005, and therefore able to show four full calendar years of sales. Additionally, they have to be U.S.-based, privately held, for profit, and independent -- not subsidiaries or divisions of other companies -- as of December 31, 2008. Revenue in 2005 must have been at least $200,000, and revenue in 2008 must have been at least $2 million. The top 10 percent of companies on the list comprise the Inc. 500, now in its 28th year.
About Inc. Magazine, http://www.Inc.com
Founded in 1979 and acquired in 2005 by Mansueto Ventures LLC, Inc. is the only major business magazine dedicated exclusively to owners and managers of growing private companies that delivers real solutions for today's innovative company builders. With a total paid circulation of 712,961, Inc. provides hands-on tools and market-tested strategies for managing people, finances, sales, marketing, and technology.
About SwaddleDesigns, LLC http://www.SwaddleDesigns.com
SwaddleDesigns is based in Seattle, Washington. SwaddleDesigns is committed to providing functional and stylish products to help new parents comfort and care for their baby. SwaddleDesigns products are fun to mix and match with exclusive collection of prints and colors. An extensive list of celebrity parents, such as Ben Affleck and Jennifer Garner, Angelina Jolie, Gwyneth Paltrow, Marcia Cross, Tori Spelling, Alison Sweeney and hundreds of thousands of new parents around the USA and the world have used and enjoyed SwaddleDesigns stylish and functional products. SwaddleDesigns products are manufactured in Seattle, Washington. All of SwaddleDesigns flannel and marquisette fabric meet Oeko Tex Standard 100.
For retail locations and product information, please visit http://www.SwaddleDesigns.com.
If you would like to speak with Lynette Damir or to request SwaddleDesigns product samples and product images contact: Kitti Musch, 206-525-0400 Kitti(at)SwaddleDesigns(dot)com
###