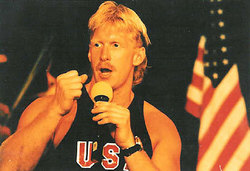 Rather than remain miserable, Kevin sharpened his body and mind to become a world class athletic competitor. Now he teaches his audiences around the world to move forward in spite of whatever challenge they may face.
Wichita, KS (PRWEB) December 4, 2009
Kevin Saunders, a motivational coach and inspirational speaker, will address the INTRUST BANK Kansas Livestock Association clients about overcoming adversity, breaking barriers and transcending limitations on Thursday December 3, 2009 at 8PM at the Hyatt Regency Hotel. This event will be the culmination of the KLA Annual Convention for the INTRUST BANKS KLA Clients.
Saunders will share his personal story of tragedy to triumph and help inspire the players to display their courage by sacrificing more, working harder and smarter than anyone else, overcoming life's adversities by making the right choices and never giving up regardless of obstacles. Saunders and INTRUST BANK both agree that there's no shortcut to success, but good old-fashioned hard work! Saunders says it is a great honor for him to speak to this group and that working together INTUST BANK with their KLA Clients helps the Livestock owners accomplish things that might otherwise not be possible and in turn livestock over the years has been a good sound investment for the Banking industry. Together Saunders says:"INTRUST BANK and their KLA Clients help strengthen our Economy, our communities, the state of Kansas and America. Both the values and appreciates each other and are interdependent."
When Bruce Frost heard that Kevin Saunders was going to be in the Wichita area in December, his immediate response was, "When can I get him down here to speak to our INTRUST BANK / KLA Client dinner?" Saunders was excited to speak to a group as he grew up on a cattle and grain farm in North West Kansas (Downs, KS) where his father taught him the value of hard work at an early age. Growing up on a cattle and grain farm near Downs, KS in Smith County, Saunders was a member of 4-H and FFA and routinely showing his Feeder Steers at the county fair and with his Dads guidance and advice won the Grand Champion and Reserve Grand Champion of the over 50 steers that were in competition from Smith County.
Saunders graduated from Kansas State University with a BS degree in Agriculture and is listed as one of the most famous graduates from KSU. See link KSU famous Alumni - http://www.k-state.edu/welcome/famous_alumni.html
Saunders' incredible journey of survival and triumph began when he was paralyzed by a grain elevator explosion as a young man. Though the doctor told him that there was no hope, against all odds Saunders survived. Paralyzed from the chest down, he struggled to find a new meaning and focus for his life. Abused and abandoned by his young wife, his life fell into disarray. Divorced, bankrupt, and utterly alone, Saunders fell into a deep depression.
VoiceAmerica radio show co-host Sheryl Dawson shared, "Rather than remain miserable, Kevin sharpened his body and mind to become a world class athletic competitor. Now he teaches his audiences around the world to move forward in spite of whatever challenge they may face."
Saunders has received more than 100 commendations, proclamations and awards for his work to improve health and fitness, education and sports in America and around the world. Saunders has competed in more than 700 races, winning hundreds of medals. He is the author of several books including "There's Always a Way," "Mission Possible," "Conversations in Health" "CENTAUR" The first Wheelchair Action Hero Comic book and the just recently released "Blueprint for Success." He's inspired more than 5,000 groups including more than 1,000 schools around the world. On Friday Saunders will be speaking to a local Wichita school area on Friday.
Saunders will be featured the featured guest Chris Allison SPORTS TALK Radio KGSO 1410 am at 8:05 AM this Friday morning December 4th 2009.
In a recent interview May 18, 2009, on VoiceAmerica – Total Career Success, co-host Ken Dawson added, "If you want to be inspired, listen to the wisdom of Kevin Saunders. Kevin has an incredible story of turning agony into ecstasy, as the saying goes! His nonstop energy and genuine enthusiasm are contagious. Learn the secrets of overcoming obstacles and using your life's battles to become a winner."
Kevin Saunders: Health, Fitness and Sports Advocate, Motivational Coach, Author and Inspirational Speaker
Saunders donated a track to his hometown that only had a dirt path around the football field and then Downs High School now (Lakeside High School, Downs, KS) won the state 1A track and field championship in 1989. Kevin said 'I hope having a real track to train on will mean the difference between 2nd and 1st place in the state and help the athletes be all they believe they can be.
In 1989 Saunders worked alongside Tom Cruise and Oliver Stone as a principal actor to feature in the major studio release "Born on the Fourth of July," an Academy Award-winning movie directed by Stone.
From 1991 to 2005 Saunders worked with Snyder and the Kansas State University football team, where he served as the inspirational / motivational coach during what was to become known as the greatest turnaround in college football history. In 1993 at Kansas State, Snyder created the "Kevin Saunders Never Give Up Award," a team award given to the player who displayed the most courage, determination, dedication and perseverance in the pursuit of team goals.
Saunders was the first person with a disability appointed to the President's Council on Physical Fitness & Sports by President George H. W. Bush and was the only member retained and reappointed by President Bill Clinton. More recently, Saunders was nominated by Senator Pat Roberts in October for Chairman of the President's Council on Physical Fitness & Sports in the Obama Administration.
If appointed by President Obama Saunders would become the first person with a disability to hold that position. Saunders says he would like to follow his friend Governor Schwarzenegger lead and visit all 50 states promoting education, fitness and making healthy choices to ISD's across America. Focusing on having students keep personal accountability journals to set their goals and make plans to reach them and see how their daily choices affect their ability to reach their goals. They can also see that most goals are not reached in days or weeks but months.
When Saunders speaks to the Maize Elementary students in Wichita, KS on Friday at 2 pm, he will also be focusing on character value's like self discipline, honesty, acceptance, perseverance, friendship, compassion and Never Giving Up on your dreams on goals.
Saunders pushed his wheelchair over 2,500 miles across America to promote health and fitness. Later, he wheeled himself through portions of five countries in Europe, serving as an international ambassador for health and fitness to encourage active lifestyles.
Saunders received his Bachelor of Science in agriculture from Kansas State University. After his accident, Saunders attended Del Mar College in Corpus Christi, Texas, where he earned an associate's degree in kinesiology and acting. In 2000 Del Mar selected Saunders to its Wall of Honor as an outstanding alumnus. During that same year, he was invited to Washington, D.C., and presented the Outstanding Alumni Award from the America Association of Community Colleges.
For more information, visit http://www.KevinSaunders.com or Wikipedia
Or contact Dora, Saunders & Associates at 785-454-3670 or cell 713-449-4578
###