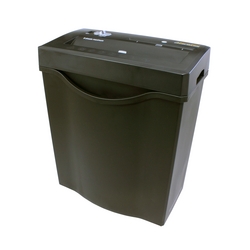 "Identity Theft and Fraud are major concerns for every company and individual today"
Chatsworth, CA (PRWEB) December 8, 2009
Aleratec Inc., leading developer and manufacturer of "Prosumers' Choice" solutions for the USB, Flash, HDD, Blu-ray, DVD CD, duplicating, and DVD/CD publishing markets, introduced today its newest product, the DVD/CD Shredder XC.
The DVD/CD Shredder XC is a state-of-the-art device that shreds Blu-ray/DVD/CD optical discs, credit cards and paper. Dedicated bins exist for either paper or plastic. The paper shredder performs a cross cut operation, which virtually destroys the original format. Aleratec is proud to offer the simple, quickest and easiest method of preventing unauthorized use of sensitive data recorded on your discarded discs. With a Blu-ray, DVD or CD falling into the wrong hands, all of your personal financial records or business customer lists, an entire accounting system or more could be lost or used against you. With the growing threat of hazards like identity theft the DVD/CD Shredder XC provides protection and peace of mind at a low cost.
"Identity Theft and Fraud are major concerns for every company and individual today," stated Perry Solomon, President and CEO, "Aleratec wanted to do its part by providing this commercial strength cross cut shredder solution to our customers and their businesses."
Product Specifications
Shredding Capacity: 1 Blu-ray; 1 DVD; 1 CD; 1 Credit Card; or
5 sheets of paper per pass
Functions: Auto Start/Stop & Reverse
Shred Type/Size: Strip Cut 40mm: Blu-ray/DVD/CD
Strip Cut 23 mm: Credit Card
Cross Cut 4 x 23 mm: Paper
Feed Opening: Blu-Ray/DVD/CD: 123 mm (4.8")
Credit Card: 123 mm (4.8")
Paper: 220 mm (8.66")
Weight: 15.4 lbs.
Power Requirements: 120 VAC, 1.6 Amp
Dimensions (L X W X H): 13.4" x 9.5" x 20.6"
UPC Code: 808068-00443-1
The Aleratec DVD/CD Shredder XC (P/N 240145), mid-range, desk-side shredder is now flanked by Aleratec's most popular, desktop, personal shredder the DVD/CD Shredder (P/N 240143), and the ever popular DVD/CD Shredder Plus DS2 (P/N 240144), industrial strength, floor-standing shredder on the high end.
Price and Availability
The Aleratec DVD/CD Shredder XC will be commercially available December 8, 2009 through Aleratec's direct partners and channel reseller partners. Estimated Retail Price for the DVD/CD Shredder XC is $74.99.
The full line of Aleratec solutions and accessories is featured at AAFES, Amazon.com, ANTOnline.com, B&H Photo Video, Best Buy, Buy.com, CDW, Circuit City.com, CompUSA.com, Dell, HP, Insight, J & R, Mac Connection, MacMall, Micro Center, Office Depot, PC Connection, PC Mall, QVC.com, RitzCamera.com, Tech Depot, Tiger Direct, and Wal-Mart in addition to other leading U.S. retailers. Government and Education customers may purchase from Government and Education Specialists including AAFES, B&H Photo Video Gov, Best Buy for Business Gov/Ed, CDW-G, CompuCom, EnPointe, GovConnection, GOVPLACE, GTSI, Insight Gov, PC Mall Gov, SARCOM, Shi.com, Softchoice, SoftMart, Sparco.com, TIG, and Unisys. All products are available to resellers in the U.S. through D&H Distributing, Ingram Micro, and Tech Data; in Canada through D&H Canada and Ingram Micro Canada; in Latin America and the Caribbean through Tech Data Miami.
Aleratec DVD/CD Shredder XC (Aleratec P/N 240145, D&H Distributing SKU 240145, Ingram Micro SKU BV9453, Tech Data SKU 17325Q)
About Aleratec Inc.: The company is a leading developer and manufacturer of "Prosumers' Choice" solutions for the USB, Flash, HDD, Blu-ray, DVD CD duplicating, and DVD CD publishing markets. Exciting new disc duplicating and disc publishing products and optical recording media are establishing a higher standard in the industry offering professional strength solutions at consumer prices that are exceptionally easy to use, creating the ultimate "out of box" product experience. Aleratec, Inc. is headquartered at 9851 Owensmouth Avenue, Chatsworth, CA 91311. For more information please visit http://www.aleratec.com/. Please visit http://www.youtube.com/Aleratec for video demos and check out the Aleratec micro blog at http://www.twitter.com/Aleratec. You may contact Aleratec Toll Free at 866-77-ALERATEC.
# # #