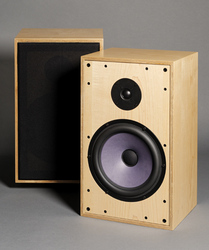 Annandale is offering these speakers with a 30 day in-home-trial so consumers can try the A-25's in the comfort of their own homes with their own equipment.
Brooklyn, NY (PRWEB) December 12, 2009
In 1969, the original A-25 was introduced to the US market by Dynaco. Over the next decade, the A-25 became one of the most popular high-end speakers of all time resulting in sales of one million units. The legendary success of the product is not a surprise - Gordon Holt said at the time in Stereophile magazine: "You will have a hard time buying more musical naturalness at any price".
Skip forward 40 years and the legend has been reborn. "The new A-25 XL2 loudspeaker system delivers the best of both worlds – great heritage and a thoroughly modern, advanced package of high fidelity sound, old world craftsmanship and technology," said Gary DiChiara, Annandale co-founder and president. "And it does so with a design, componentry and value that simply aren't available from our competitors at anywhere near the A-25 XL2's price point.
Unique in this day and age, the A-25 XL2, like the original A25, is a two-way system that has been designed around a powerful 10" European made woofer that has been custom designed to handle both the bass and mid-range frequencies. The A-25 XL2's woofer provides 250% more radiating area than the typical 6 1/2" unit used by many of the A-25's competitors and is primarily responsible for the A-25's "big" sound. The unusually punchy low end, superior transient response and high power handling capacity provides consumers with a tactical sensation that will bring them closer to the live music experience they crave.
"We're particularly pleased with the richness of bass and smoothness throughout the midrange we've achieved with the A-25 XL2", said Gerry Emmert, Annandale VP and co-founder, "Using the 10" SEAS woofer has allowed us to make a high-performance but compact design that surprises listeners with its sense of scale and dynamic capability ", he added.
Product highlights include:

Advanced acoustical 4th order crossover design built with audiophile quality components ensures uniform frequency response over a wide listening window.
Aperiodic Loading of the bass for fast tight bass with no overhang or boominess
15 Ply Baltic Birch enclosure with applied constrained- layer damping and internal bracing for stiffness and low cabinet induced coloration
Real American maple veneer with durable conversion varnish finish for beauty and durability
Integral resonance chamber on the tweeter for extended frequency response and high power handling capabilities
Flat impedance curve makes it compatible with all types of amplifiers from tube to solid state, low power to high power
The A-25 XL2 is available direct from Annandale in beautifully finished real American Maple veneer at US $2,499 per pair. Matching speaker stands are sold separately and are US$350 per pair. "And best of all, " said DiChiara "Annandale is offering these speakers with a 30 day in-home-trial so consumers can try the A-25's in the comfort of their own homes with their own equipment".
Annandale A-25 XL2 – Technical Summary
Form Factor: Stand Mounted 2 way, passive loudspeaker
Frequency Response: (+-3db): 58 Hz – 20 kHz
Bass Extension Anechoic: (-10db) 38HZ
Dimensions: 21" H x 12.5" W x 10.5" D (without stand)
System Product Weight: 30 lbs. each
Enclosure Type: Aperiodic, critically damped, 15-ply Baltic Birch finished in natural maple
Woofer: SEAS 10" Cast Frame, Classic paper cone with matching natural rubber surround
Tweeter: SEAS 1" Soft Dome, with integral resonance chamber
Crossover Frequency: 2.0 kHz, 4th order acoustic
Audio Input: Gold plated 5-way binding posts
About Annandale Acoustics
Annandale Acoustics develops, produces in the United States and markets affordable loudspeaker systems that integrate traditionally inspired design with best-in-class transducer and enclosure technology. Founded in 2009, Annandale provides customers with a high-end listening experience at an affordable price. For additional information, visit http://www.annandaleacoustics.com.
Annandale A-25 XL2 and the Annandale logo are trademarks of Annandale Acoustics, LLC. Dynaco is a trademark of the Panor Corporation. Other company and product names may be trademarks of their respective owners.
# # #