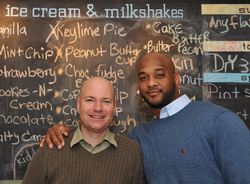 Baltimore, Md. (PRWEB) December 9, 2009
Dick Gordon, host of American Public Media's The Story, interviews the founders of the Taharka Brothers Homemade Ice Cream Company in an episode airing today, Tuesday, December 8th on over a hundred radio stations nationwide (times vary according to your state. Online streaming of the program is available on The Story's web site). It airs locally at 8pm on WYPR (88.9 FM) and 1am on WAMU (88.1 FM). Gordon will talk with Sean Smeeton and Carroll Skipwith about how the company, currently a non-profit social business venture, is transforming itself into a for-profit enterprise. Intent on giving its employees ownership, securing the emotional investment of the community and raising capital for its expansion, Taharka Bros. will be offering stock in the company to investors.
The Story, a program dedicated to telling first-person narratives of ordinary lives, chronicles the history of Taharka Brothers Homemade, revealing its mission of developing young urban leaders (men ages 18-22), doing so via the structure of a business, which provides the platform for them to become visible change makers in their communities.
Driven by a strong belief in the power of business to solve social problems Smeeton, Taharka Bros.' current CEO and one its original founders, turned the company's attention to the production and sale of homemade ice cream in 1999 after having experimented with various businesses. "The nice thing about ice cream is that it's a very social product. Most people like ice cream. People come together and have ice cream socials. The fact is, Baltimore is a very segregated city. People don't really come together that much. It opens up a space for the community to gather, start conversations, develop understanding and address issues. And who better to lead such conversations than the young men who've often been left out."
About the Taharka Brothers Homemade Ice Cream Co:
Based in Baltimore, MD, Taharka Bros. Homemade is a 21st century ice cream enterprise that lives out a set of social entrepreneurship values: Generosity, Diversity, Creativity, and Artistry. Concentrating on nurturing Baltimore's inner-city young men (ages 18 to 22), Taharka Bros., birthed when its founders decided to create a business concern that was cool, fun, and had a direct impact on the community they lived in, is socially engaged and committed to community. Taking its social accountability to the next level, the company builds young leaders by exposing them to the science, production, promotion and sale of its handmade, homemade ice cream. It's social consciousness returned, authentic action regained, imagination restored, community connection redux, and business reshaped. Taharka Bros. Homemade: The great American ice cream social - remixed as a 21st century social business venture.
About The Story with Dick Gordon:
Our goal is to find people whose lives are intersecting with significant issues in the news and give them the opportunity to tell their story. At a time when "celebrity rules" and the only "ordinary" people we see are faces in the crowd, The Story reminds listeners that their stories and their lives matter. We believe that by creating a space for first person stories we are choosing not to accept a pollster's version of our thoughts and attitudes. We've learned that hearing directly from people about their experiences can transform our understanding of what's happening in the world. The Story is produced at North Carolina Public radio - WUNC and is hosted by Dick Gordon and co-produced and distributed by American Public Media.
###