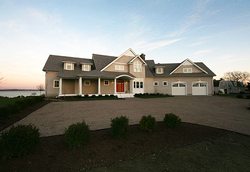 "When we embarked on this project we believed green living and a tech could exist, what we found was that technology helped us be more energy efficient, more connected and smarter in the way we built our home," said Kimberly Hageman."
Narragansett, RI (PRWEB) December 10, 2009
Green Life Smart Life (GLSL) is proud to announce its official rating by the US Green Building Council as a GOLD certified LEED® for Homes Project. The 4529 sq/ft home scored an impressive 92.5 out of 136 points. The Narragansett, RI home is the first LEED-H Gold home in RI and only the second completed LEED-H project in the entire state.
Achieving a HERS (Home Energy Rating System) of 58, the home has 42 percent better energy efficiency than an average home. This was achieved through building design, sprayfoam insulation, composite roofing, ENERGY STAR® HurricaneShield windows from Pella, a five-zone renewable energy geothermal system for heating and cooling, and a whole house Lutron lighting control system with over 70 LED recessed lights. Green Life Smart Life also features a Control4 home energy management system. The system monitors and aggregates data from all electricity loads in the house with real-time analysis of usage and cost.
"When we embarked on this project we believed green living and a tech lifestyle could exist, what we found was that technology helped us be more energy efficient, more connected and smarter in the way we designed, built and will live in our home," said homeowner Kimberly Hageman. "We want to be able to entertain, so from the wine cellar to digital pictures, our system had to be a part of our lives, but our energy had to be managed efficiently too. Knowing how much energy we consume means we make smarter choices."
The home will collect more than 100,000 gallons of water per year with its rainwater harvesting system and save more than 93,000 gallons per year with its high performance plumbing fixtures from Kohler. With a landscape design that rehabilitated the previous land space and included native, drought tolerant grasses and plants, the irrigation system has no municipal water connection.
Extremely conscious about waste management on site, the project diverted 87 percent of their construction debris from the waste stream, accumulating a mere 1.2 pounds of waste for every square foot of the home. A result of attentive planning and accurate material ordering, there was 75% less waste produced than that of an average construction project. In partnership with local installer Robert Saglio Audio Video, the home included a sophisticated wiring design which achieved the TechHome Rating System Platinum rating and first Green rating, by reducing wiring needs by more than 50 percent through a centralized entertainment equipment room.
Highlights aside, the points achieved by LEED-H category were:
Innovation in Design -- 9 points achieved out of 11 points available
Location and Linkages -- 7 points achieved out of 10 points available
Sustainable Sites -- 16.5 points achieved out of 22 points available
Water Efficiency -- 12 points achieved out of 15 points available
Energy and Atmosphere: 21.5 points achieved out of 36 points available
Indoor Environmental Quality -- 13 points achieved out of 21 points available
Awareness and Education – 2 points achieved out of 3 points available
"Every decision we made was about how each product and each choice impacted our environment and our family." stated Hageman. "We believe we made the right choices at every opportunity, yet never sacrificing comfort, convenience or even style. Though building green cost us about 13percent more based on costs for certain products, we believe it will pay us back in the end with home that is energy efficient, durable and healthy. Building green was the right decision for our family."
GLSL will open its doors to the public on Saturday, December 12, 2009 from 10 am to 5 pm for people to tour and learn about all of the products and technologies installed in the home. For more information, please visit http://www.greenlifesmartlife.com. To learn more about our sponsors visit http://www.greenlifesmartlife.com/sponsors.
About Green Life Smart Life™
The Green Life Smart Life project was inspired by a real family that has been on the quest to live on the RI coast since 2000. The family has spent a year designing a green home that captures the views of Narragansett Bay and the Newport Bridge; handles the Northeast corridor's harsh weather elements; and balances the unique constraints of building green and staying on a budget. By creating a powerful coalition of sponsor partners across multiple industries, Green Life Smart Life is a homeowner showcase on residential green building resources, environmentally preferable products, energy saving strategies and smart technologies.
# # #