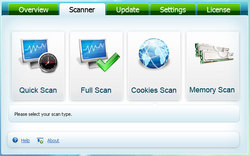 Free spyware removal tool can be just as effective as paying for a high priced anti-spyware package, but it is better to use the right software.
(PRWEB) December 16, 2009
NoMalware®, leading antivirus software company, today announced the launch of their innovative free anti virus protection tools.
NoMalware is free antivirus software needed to safeguard all personal information and files. With automatic scans, spyware removal tools and updates, a computer user can rest easy knowing he has systematic, real-time protection against the latest malware and other malicious programs. This product is powered by the innovative Internet security engine, proven technology that protects PC from unforeseen security threats.
A computer virus is basically a software application that spreads itself from one computer to another with the intention of causing unwanted OS interferences and system corruption. Viruses and spyware can steal or destroy data on computer which will result in system failure. The only safe way to effectively remove an infection of this nature is by using a free virus removal tool which will ensure that any malicious applications are safely removed without further damage. These are essential in order to remove malware and spyware from PC in addition to other harmful content. NoMalware provieds a collection of various free virus scan and removal tools that can prevent Internet attacks. Once the computer got infected by any type of malware, the free virus removal tools can fix operating system again.
Affecting personal and business computers alike, the spyware problem has been getting worse and is reaching higher levels of infection every day. Multiple spawning pop ups, unwanted browser home pages, being tracked by others, others controlling computers and others having access to users' private information are just a few of the ways spyware can cause data harm.
Nowadays, spyware removal could not be made more simple. NoMalware represents a free spyware removal tool and malware protection to ensure identify and eliminate harmful spyware files and applications from the computer. Users will probably be surprised at what new spyware removal software will find on their computers.
Free spyware removal tool can be just as effective as paying for a high priced anti-spyware package, but it is better to use the right software.
Preventing spyware before infection is the best way to operate computer safely. After identifying and removing any spyware from the PC, necessary measures are required to keep PC protected. NoMalware is proactive in protecting computers and personal information.
For more information about NoMalware free antivirus tools, visit http://www.malwaremechanic.com.
About NoMalware:
NoMalware main goal is to protect their customers against that risk by providing reliable, easy-to-use and powerful solutions that work efficiently so the computer users can focus on their own jobs with their computer, not worrying about security. As the nature of threats continues to evolve — from simple viruses to complex threats designed to steal confidential information, the nature of antivirus software must also evolve. Using the latest technology developed by experienced specialists, NoMalware provides real-time proactive protection against the latest threats. The company will continue to expand and address the needs of the industry through improved technology and broader customer support.
###