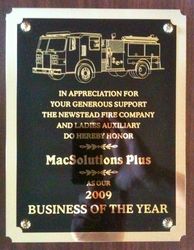 "One of the reasons I own a local business is so I can give back to the local community," said Garret Cleversley
Buffalo, NY (PRWEB) December 15, 2009
In Newstead, New York, everyone recognizes the local fire trucks. But now one Western New York business is being recognized for helping the Newstead Fire Company fight more than fires.
MacSolutions Plus – Buffalo's leading independent Apple Specialist store – has been named the 2009 Business of the Year by the Newstead Fire Company and Ladies Auxiliary.
The award was given in recognition of the numerous contributions made by MacSolutions Plus. Throughout 2009, MacSolutions Plus provided computer equipment at cost, sponsored many of the fire company's events, and donated computer services worth more than $2500.
"One of the reasons I own a local business is so I can give back to the local community," said Garret Cleversley, owner and president of MacSolutions Plus. "Newstead Fire Company does so much for all of us – something that really hit home after the crash of Continental flight 3407, when they were one of the mutual aid companies on the scene. I just want to do my part."
Cleversley is also a member of the Newstead Fire Company. He leads their Technology Committee, and was honored as the fire company's First Aider of the Year for 2009.
Since 1990, MacSolutions Plus, Inc. has offered Apple sales, support and consulting to business, education and residential customers. The company, which is headquartered in West Seneca, New York, offers a broad range of services to more than 2,800 local clients. These services include desktop computer set-up, maintenance and administration, system and network administration, consulting and technology planning, Internet service and hardware set-up and troubleshooting, onsite and in-store training, emergency response and preventative maintenance.
Newstead Fire Company is a 100% volunteer organization that provides fire protection, fire prevention, emergency medical and rescue services and disaster mitigation to the Newstead and Akron communities. Founded in 1947, Newstead Fire Company responds to more than 300 calls every year, and was one of the many responders to the crash of Continental flight 3407. The company has two stations and approximately 65 volunteers.
For more information, or to schedule an interview with Garret Cleversley, please call 716-823-3085 or email garret at macsolutionsplus.com.
###