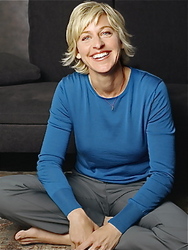 "I'm so excited with the challenge," said Ellen. "I encourage you all the way, you're gonna be great! Good Luck, Steve!"
San Diego, CA (PRWEB) December 16, 2009
Ellen DeGeneres, Will Ferrell and Will Forte of Saturday Night Live, Paul Reiser, who starred on Mad About You, and singer Chris Issak are lending a helping hand to The Wampler Foundation in its efforts to give kids with disabilities the chance to have an outdoor wilderness experience that will change their lives.
Ellen is the latest to offer her support. Her video, recorded just days ago can be seen here. She heard about Steve's climb from a friend and when she learned what The Wampler Foundation is doing, she's eager to lend her voice to its work. "I'm so excited with the challenge," said Ellen. "I encourage you all the way, you're gonna be great! Good Luck, Steve!"
Will Ferrell and Will Forte have also recorded endorsements of the Foundation's work. The others will likely soon follow suit. And the list is growing fast.
Inspired by Steve Wampler, who despite being disabled by Cerebral Palsy since birth, has been helping kids with disabilities for years, many well know performers are lining up to provide video testimonials to the work of the Foundation. Steve's story and the Foundation's successful efforts to make a difference in young people's lives—young people whose opportunities have been limited by disabilities—are what has brought them on board. They are eager to help the program go national—even international—in ways that only a broad fund-raising campaign can make possible. The attention and recognition Ferrell, Forte, Reiser, DeGeneres, and others bring will let the Foundation touch the lives of more kids than ever before.
It all began for Steve Wampler at age nine. Born with severe Cerebral Palsy, he has been using a wheelchair for mobility ever since but has made his life a model for others in similar circumstances. He has been an environmental engineer, a successful entrepreneur, a devoted father and husband, and a leader in his community of Coronado, California.
When he was a fourth grader, his parents sent him on his first solo camping trip, a weeklong experience for physically challenged kids sponsored by Easter Seals at what was then called Camp Nejedly. It was a life-changing adventure. His experience there over the course of several years gave him the knowledge that he could handle all of the challenges that life held for him. After he finished college, he learned that financial difficulties had caused The Easter Seals Foundation to stop funding the camp and it fell into disrepair and was nearly abandoned.
Steve became determined to bring the camp back to life so that an even greater number of kids with physical disabilities could have the same sort of experience that had helped him gain the confidence and skills that had prepared him for taking his place in the world. Through his Wampler Kids camps, thousands of young people have been challenged to do more, accomplish more, and to have fun at the same time. Now, through the efforts of The Stephen J. Wampler Foundation, Steve's life-affirming vision will be brought to a wider audience.
The Foundation's major fund-raising campaign for 2010 will be Steve's attempt to become the first person with Cerebral Palsy ever to scale Yosemite's fabled El Capitan. It will require 20,000 pull-ups in six days for him to reach the top of the peak, climbing a vertical face twice the height of the Empire State Building. People the world over are donating $100 for each pull-up to help the Foundation help kids with disabilities reach their full potential.
According to Steve Wampler, having celebrity endorsements is a happy coincidence. "This is so important to getting our message out to more people than we could ever reach without their help. Sure, it's an ego boost to have their attention but that's not what matters. The kids are."
Elizabeth Wampler, co-founder of the Foundation, as well as Steve's wife and biggest cheerleader, adds, "The support we are receiving from celebrities has been a big surprise and we couldn't be more grateful. It's like having a magnifying glass focusing on all of the work we are doing. And this support is more than just a nod in our direction. These people are really involved!"
About the Wampler Foundation:
The Stephen J. Wampler Foundation provides outdoor wilderness programs to physically disabled children and teens in an environment where they are challenged to learn new physical, mental, and social skills. The Foundation is also involved in other areas that support physically challenged youth—from providing individual guidance to developing green vacation housing for disabled youth and their families.
Steve Wampler, as an example as someone who has created a meaningful and productive life despite being disabled by Cerebral Palsy, serves as an inspiration to young people who have experienced his life-changing programs or know his personal story. His record of accomplishment also has a profound effect on their families and the Foundation's supporters. His leadership and vision is the driving force behind the Foundation and has been a key factor in its success thus far.
Many of those that the foundation helps are in desperate need of direction and greater self-confidence. The Stephen J. Wampler Foundation's goal is to help as many children with physical disabilities as possible have the same opportunity that Steve has had to achieve independence and meet their potential. All sponsored programs promote the self-reliance, responsibility, and confidence they will need to succeed.
###