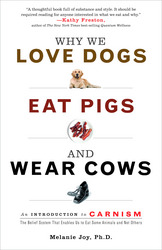 "A thoughtful book full of substance and style. Why We Love Dogs, Eat Pigs, and Wear Cows should be required reading for anyone interested in what we eat and why." ―Kathy Freston, author of The New York Times-bestselling Quantum Wellness
San Francisco, CA (PRWEB) December 19, 2009
In her groundbreaking new book, Why We Love Dogs, Eat Pigs, and Wear Cows (Conari Press, January 2010), Melanie Joy explores the invisible system that shapes our perception of the meat we eat, so that we love some animals and eat others without knowing why. She calls this system carnism. Carnism is the belief system, or ideology, that allows us to selectively choose which animals become our meat, and it is sustained by complex psychological and social mechanisms.
Like other isms (racism, sexism, etc.), carnism is most harmful when it is unrecognized and unacknowledged. Why We Love Dogs, Eat Pigs, and Wear Cows names and explains this phenomenon and offers it up for examination. Unlike the many books that explain why we shouldn't eat meat, Joy's book explains why we do eat meat -- and thus how we can make more informed choices as citizens and consumers.
FROM THE BOOK
From Chapter 1, The Missing Link:
It is an odd phenomenon, the way we react to the idea of eating dogs and other inedible animals. Even stranger, though, is the way we don't react to the idea of eating cows and other edible animals. There is an unexplained gap, a missing link, in our perceptual process when it comes to edible species; we fail to make the connection between meat and its animal source. Have you ever wondered why, out of tens of thousands of animal species, you probably feel disgusted at the idea of eating all but a tiny handful of them? What is most striking about our selection of edible and inedible animals is not the presence of disgust, but the absence of it. Why are we not averse to eating the very small selection of animals we have deemed edible?
From Chapter 2, Carnism, Ideology, and the Status Quo:
We tend to view the mainstream way of life as a reflection of universal values. Yet, what we consider normal is in fact nothing more than the beliefs and behaviors of the majority. Before the scientific revolution, for example, mainstream European beliefs held that the sky was made up of heavenly spheres that revolved around the earth, that the earth was the exalted center of the universe. This belief was so ingrained that to proclaim otherwise, as did Copernicus, and later Galileo, was to risk death. So what we refer to as mainstream is simply another way to describe an ideology that is so widespread – so entrenched – that its assumptions and practices are seen as simply common sense. It is considered fact rather than opinion, its practices a given rather than a choice. It's the norm. It's the way things are. And it's the reason carnism has not been named until now.
If animals could draft a manifesto, Why We Love Dogs, Eat Pigs, and Wear Cows would be it.
ABOUT THE AUTHOR
Melanie Joy, Ph. D., is a psychologist, professor, and author. She teaches psychology and sociology at the University of Massachusetts, Boston and is the leading researcher on carnism. She is the author of Strategic Action for Animals: A Handbook on Strategic Movement Building, Organizing, and Activism for Animal Liberation. Joy can be found online at http://www.melaniejoy.org.
###