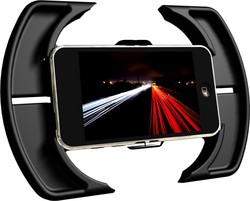 Not only does the simplicity of the Helix make it easy to travel with, but it allows the end user to play games in both landscape and portrait mode.
Daytona Beach, FL (PRWEB) December 18, 2009
PosiMotion is pleased to announce the Helix Gaming Grip accessory for the iPod Touch and the iPhone. Helix will be making its first debut at CES 2010. Helix is a revolutionary gaming grip that vastly improves accelerometer-based gameplay. Both extremely light and portable, Helix offers a sleek aesthetic and ergonomic design for enhanced playing comfort and control.
"Not only does the simplicity of Helix make it easy to travel with, but it allows the end user to play games in both landscape and portrait mode," said PosiMotion's President Olivier Hennessy.
In celebration of Helix's debut, the G-Fi VS will be on sale for $49.99 for a limited time, making it a perfect gift for the holiday season. The 2009 Innovations Award winner will be returning to CES to demonstrate it's unique ability to facilitate multiplayer mobile gaming anywhere on the planet at any time.
"If you want to have a Texas Hold'em tournament on the road with multiple devices, there's no way of connecting wirelessly in transit. We wanted to give the end user a mobile gaming hub that does just that and more," said PosiMotion's Vice President of Sales Brian Beighle.
The Helix will be available early next year and the G-Fi VS is available now on the product's website (http://www.g-fi.com/vs).
Both products along with an array of PosiMotion's other software and hardware will be featured in the South Hall 1 booth #20653.
For more information contact:
Brian Beighle
386.671.7855 office ext.306
386.290.2355 iPhone
About PosiMotion
PosiMotion is a Florida-based, cross-platform development company with core strengths in programming, developing and publishing for the iPhone and Android platforms. As a service provider, PosiMotion handles high-value intellectual property (IP) for some of the largest companies in the world. PosiMotion's broad range of expertise and effective development processes help clients reach their target launch dates reliably and efficiently, giving them the edge they need to stay ahead of the competition. G-Park, PosiMotion's flagship App, is currently featured on Apple's iPhone commercials.
Please visit: http://www.posimotion.com for more info.
# # #