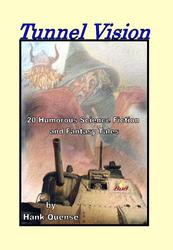 Comic relief--inspired zaniness: Jan Clark: YA author
Bergenfield, NJ (PRWEB) December 20, 2009
Tunnel Vision, by author Hank Quense, is a collection of twenty previously published short stories. All of them are humorous fantasy or science fiction stories. A number of bizarre characters roam through the pages of the collection. They include: Lucretia Borgia, the Wyrd Sisters, an undead softball team, a vicious alien impresario and unscrupulous politicians. You deserve a laugh today, and Tunnel Vision is the place to get it. Quense's humorous way of looking at life has three reviewers laughing out loud. Tracy Byford, Michelle Messina and Nanci Arvizu expressed their satisfaction in reading the collection
Here are their reviews:
"Although a fan of serious science fiction and fantasy, I've loved Quense's humorous work for years. From drunken physics students causing their building to vanish to an odd Dwarf or the undead thrown in for good measure, the stories entertain without effort. Burga the Warrior-Cook? A Knight-Accountant? His satire is right on; Quense has a knack of having his, for the most part clueless, characters say either just the wrong thing at the wrong moment, or the right thing to make the scene work perfectly.
Oh, and did I mention the hostile aliens?" Tracy
"Hank knows how to take the every day ordinary and twist it into a parallel universe of you-never-know-that-could-be sense of humor that keeps me hooked.
Tunnel Vision is a collection of Hanks short stories, which make it easy to pick up on an e-reader (I use my Black Berry) and read a story during any "wait time". But be careful where you read; you could find yourself laughing out loud". Nanci
"I love these stories. I work nights in a hospital and sometimes the floor is quiet. That's when I break out this book and read a story and two. My coworkers have become accustomed to my giggling and guffawing while I'm reading. My favorite story is Lucy in Love." Michelle
Hank Quense writes humorous fantasy and science fiction along with an occasional article on fiction writing. He lives with Pat, his wife of many years, in Bergenfield, NJ. They have two daughters and five grandchildren.
Bergenfield is located 15 miles from midtown Manhattan. Midtown is frequently referred to as the entertainment center of the galaxy because so many extra-terrestrials go there on vacation. A favorite vacation package for these visitors is to get a gig driving a taxi for a few days.
To date Quense has over three dozen stories and articles published. His novel Fool's Gold is a sci-fi retelling of the ancient Rhinegold myth. He is presently working on a SF trilogy, a pair of fantasy novels and another collection of stories.
###
###