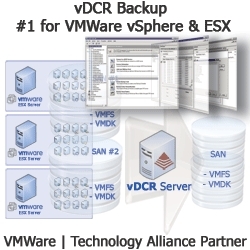 vDCR Backup v2.5 features second generation Core Data Management Engine
Toronto, Canada (PRWEB) December 23, 2009
Ardeo Logic, emerging leader in data protection for VMWare environments, today announced the release of vDCR Backup version 2.5, a major update for a very popular vDCR Backup for VMWare ESX and ESXi.
Ivan Tsarynny, Ardeo Logic's President and CEO explains: "vDCR Backup v2.5 features second generation Core Data Management Engine "CDME" for even faster backups. The main new feature is another World's First: "vStorage-VCB Hybrid Engine". It's widely known that VCB API performs the fastest "Full backups" while vStorage API's Change Block Tracking performs the fastest "Incremental backups". vDCR Hybrid Backup technology bridges vStorage and VCB APIs and combines both into a single solution. As a result vDCR Backup enables customers to complete backups in less time by using VCB API for Full backups and vStorage for Incremental and Differential backups.
vDCR Backup for VMWare helps business protect data and VMWare virtual machines with reliable, consistent and the fastest in the World backup and restore solution.
vDCR Backup for VMWare was the first to fully support both vStorage and VCB APIs, with Full, Incremental and Differential, compressed and raw backups. vDCR's innovative features, functionality & outstanding performance help achieve more for less.
vDCR Backup for VMWare is ideal for Small and Medium Business as well as large Enterprise environments. It enables customers to connect and manage multiple servers through a single MMC snap-in, a pure Windows GUI. The centralized management helps reduce administrative overhead & operational costs. vDCR Backup v2.5 can be installed inside of a guest Virtual Machine for flexibility, or on a dedicated hardware server for the highest performance
vDCR Backup v2.5 feature highlights:

"Hyper-Speed" Hybrid Backup Technology - World's First
vStorage & VCB agentless backup and restore auto-failover
vStorage to VCB and vice versa auto-failover - World's First
File Level Restore, including restore to the original location
File version tracking by backup time and date
Thick to Thin Provisioned disk migration
Disk to Disk backup and built-in Integration with Legacy Tape Backup
HOT Live guest VM backup and Cloning
Full, Differential & Incremental backup
Full changed block tracking for the fastest backups
Native support for thin-provisioned disks
VSS Database-consistent backup
Direct SAN to SAN, LAN free backups
Fully supports iSCSI & FC SAN, NAS and DAS storage
Real-life 175-610 GB/hour data transfer rates for SAN to SAN backups with single to quad channel HBA
Scalability to backup thousands of guest VM servers
Supports vSphere 4, ESX 3.x, ESXi 4, ESXi 3.x
Pricing and Availability
vDCR Backup & Restore Server is available now. Pricing starts at $499 per socket, special Starter Kit packages are available.
About Ardeo Logic Inc
Ardeo Logic is a VMware Technology Alliance Partner, providing Virtual Data Center solutions, deployment and innovative software products for vDC data protection. Learn more about Ardeo Logic at http://www.ArdeoLogic.com.
###