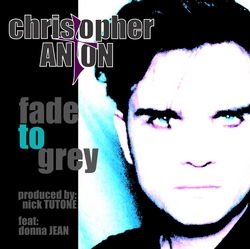 Fade to Grey...reconfigured and aggressive.
San Antonio, TX (PRWEB) December 27, 2009
Christopher Anton's new release, the digital Maxi-Single "Fade to Grey" has captured the techno inspired synth pop sound of his former top hit band Information Society. Anton offers a new spin on Visage's 1980 dance track for the 30 year anniversary of its release.
"Fade to Grey is a brilliant song. My producer and band mate Nick Tutone has changed it up a bit...It's reconfigured and aggressive", Anton said about the release. "I was inspired to do this song because I believe there is a large audience that has yet to be introduced to this track which did very well in Europe in the 80's but failed to register much here in the U.S."
Anton's new release is a culmination of electronic music influences from Depeche Mode, to La Roux, the latter of which has reintroduced electronica into the main stream for the 2010's. Anton's label, San Antonio based Mirror Piece Records, plans to follow up "Fade to Grey" with a full length Christopher Anton album entitled "Destination: X" this Spring.
"Fade to Grey" is produced by electronic industrial music producer Nick Tutone, and also features Anton's band mate Donna Jean on the spoken word portion of the song.
"Fade to Grey" will be available as a digital release on January 12th exclusively at bandcamp.com. The release will include three versions of the track, including a remix by Astrotek with a bonus music video produced by audio visual pop artist Falcotronik included with the download.
Available exclusively at:
Bandcamp
# # #