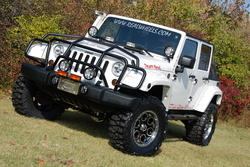 This was one of the most passionate groups of vehicle owners that we had ever worked with!
Gurnee, Ill. (Vocus) December 31, 2009
Chicago area vehicle accessory manufacturer, RealWheels Corporation (RWC) is no stranger to car, SUV and truck accessories. They have been designing and manufacturing vehicle enhancement products for over thirty years, and currently produce hundreds of products for vehicles such as the Smart car, Hummers, big rigs and even fire trucks. So when Jeep launched the new 4-door version of their popular Wrangler, RWC wasted no time in beginning the process of designing products. They realized early that it would be crazy to engineer a bunch of accessories without talking to the actual vehicle owners first.
"This was one of the most passionate groups of vehicle owners that we had ever worked with!" exclaimed RWC Manager of Product Development, Cory Polka. "They knew what they were looking for in aftermarket parts, and weren't afraid to tell us what they hated either." Polka and the team then proceeded to successfully develop more than 50 different enhancement products for the new style Jeep Wrangler JK.
RWC has now added stainless steel windshield light brackets and several billet aluminum JK accessories including new gear shift knobs, pedal sets and side foot rests. Each of the billet accessories comes with either a polished aluminum finish or a black powder coat, and each offers not only a better appearance but also better grip.
In addition to spending time with the actual Jeep owners, the staff at RWC now has strong relationships with some of the most respected off-road and specialty Jeep retailers in the business. These important relationships also dictate what will be on the drawing board next in their Illinois facility.
For more information about the line of Jeep accessories, please visit http://www.realwheels.com/wrangler.
Jan Polka
President, RealWheels Corporation
jpolka(at)realwheels(dot)com
(800) 982-1180
(847) 662-7722
# # #