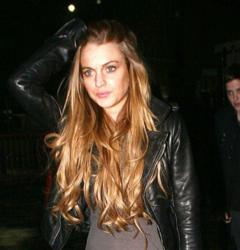 We are confident that Lindsay will find the spoiling she needs on our site, and maybe even some hot new wheels to call her own
Las Vegas, NV (PRWEB) April 10, 2009
The premier sugar daddy dating website, SeekingArrangement.com, has offered Lindsay Lohan free lifetime membership after she broke up with girlfriend, and reportedly reluctant sugar daddy, Samantha Ronson.
SeekingArrangement.com has offered the starlet a free lifetime membership in hopes she will find a more stable and healthy relationship with a willing sugar mama, OR sugar daddy.
In the offer, website officials said, "We are confident that Lindsay will find the spoiling she needs on our site, and maybe even some hot new wheels to call her own" following reports that Lindsay has been driving a Maserati owned by porn producer Dennis Desantis. Rumor has it, Lindsay bought herself an expensive Rolex watch on Samantha's dime, and the ex-couple was always fighting about money.
Website officials say "There's no need for Lindsay to go looking for a sugar daddy the hard way" as rumors linger about her previous attempts to find a sugar daddy after blowing through her once substantial $30 million film fortune.
SeekingArrangement.com founder & CEO Brandon Wade, author of 'The Definitive Guide to Sugar Daddy and Mutually Beneficial Relationships' says the 22 year old actress is "due for a sugar intervention! We simply cannot stand by as she is scrutinized for her money problems. Lindsay should join the 200,000+ sugar babies on SeekingArrangement.com. There's plenty of sugar to go around."
Website officials estimate Lindsay's required monthly allowance would exceed $10,000 a month, far more than the $500-$2,000 monthly expectation of the average sugar baby on the site.
Wade has also extended a free lifetime sugar mommy membership to 31 year old Samantha Ronson, perhaps to find some sexy new arm candy to take with her on her DJing gigs.
About SeekingArrangement.com
SeekingArrangement is the largest dating site for mutually beneficial relationships, with over 300,000 sugar daddies, mommies and babies seeking arrangements. The website has been featured on Good Morning America, CNN Headline News and the New York Times. For more information about sugar daddy dating and the sugar lifestyle, please feel free to visit the Sugar Daddy Dating Blog.
About The Definitive Guide to Sugar Daddy and Mutually Beneficial Relationships
SeekingArrangement.com founder & CEO, Brandon Wade, is the author of the new bestselling book - Seeking Arrangement: The Definitive Guide to Sugar Daddy and Mutually Beneficial Relationships - on sale at http://www.amazon.com/dp/0979424569?tag=seekingarraco-20&camp=14573&creative=327641&linkCode=as1&creativeASIN=0979424569&adid=1R1JR9BFAH84EWQH756S&.
About Brandon Wade
Brandon Wade operates a family of online dating websites . SeekingArrangement.com is the leading sugar daddy dating and discreet dating website for sugar daddies, sugar mommies and sugar babies, catering to the rich, famous and beautiful. SeekingMillionaire.com provides a serious online millionaire dating venue where millionaire, wealthy and attractive singles can find love, marriage or serious relationships.
###