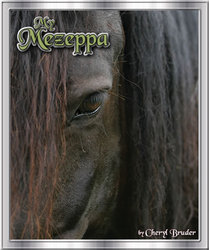 Kelly Bowers of The Rider Newspaper has called it "A real on-the-edge-of- your-seat nail biter!"
Ontario, Canada (PRWEB) December 1, 2009
Initially it was Cheryl Bruder's intention to test the waters with her sensitive and self-motivating new book of poetry and short stories so aptly named 'Half Assed'.
"What would you do if you realized one day that you have gone through your life so far with a Half Assed attitude?" What did this Author do? She put together a compilation of poems and short stories to encourage herself and other procrastinators out there.
It worked so well for her that Cheryl used her new found assertiveness to get down to business and complete one of the many unfinished novels she had sitting on her hard drive. After all she owed it to herself to complete the challenge she set forth in her book 'Half Assed'.
Cheryl Bruder's book My Mezeppa is a wonderful story full of drama and suspense and it has heroes where you would least expect them.
My Mezeppa is a compelling story about Randall Hurst, a horse breeder and trainer for a therapeutic riding center that she also supports financially.
Challenged by disability since birth, she lives in her own self-contained world of routine and familiarity. But on the day that Randi's colt, Mezeppa is born, it marks the turning point where both her and her companions are confronted with many frightening new challenges.
My Mezeppa is already getting great reviews.
Kelly Bowers of The Rider Newspaper has called it "A real on-the-edge-of- your-seat nail biter!"
To read the reviews in full go to http://www.greathorsestories.ca
Growing up in Southern Ontario, Cheryl has always been passionate when it comes to her life and her family. She also has an immense emotional attachment to horses and has been riding and working with them for most of her life.
Writing her first book 'Half Assed' was all Cheryl needed to encourage her to turn her love of horses along with her passion for writing and marry the two into her book My Mezeppa.
Both these intriguing titles are available for purchase online and to see locations where these books can be found please go to http://www.greathorsestories.ca
A list of upcoming book signing dates for these titles will also be listed on the site.
###