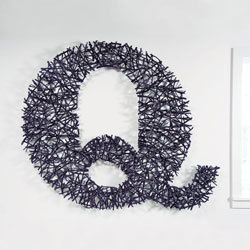 is the chance it offers viewers to gain a real sense of each work, with detail shots, images and information about each artist and photos of the works installed in a gallery setting.
Wilton, CT (Vocus) October 28, 2009
A unique exhibit of art online premieres this week in the 10th Wave III: Online.
The exhibit offers users the opportunity to navigate the online exhibit of contemporary art in much the same way they would do if they were onsite. Viewers can "walk" through 26 images of the exhibit installed, click to view each of the works in the show more closely, focus in on dozens of details shots and click further to read about each artist and see additional works
"People have seen individual works of art online, of course," says Tom Grotta, president of browngrotta arts, "but the 10th Wave III: Online is exceptional in two ways. First, we have compiled a carefully curated selection of more than 125 works by 60 internationally acclaimed artists from Europe, Asia, Israel, Canada, Australia, North and South America and the UK.
"The second distinguishing feature of the 10th Wave III Online," says Grotta, "is the chance it offers viewers to gain a real sense of each work, with detail shots, images and information about each artist and photos of the works installed in a gallery setting." Viewers can spend time with just one work or one artist or investigate many pieces more closely – just as they would if they visited a gallery in person.
Grotta photographed The 10th Wave III: Online in its entirety. He is a graduate of RIT and has been recognized for his abilities as a photographer of three-dimensional art. He has lectured on the subject at the Fashion Institute of Technology in New York, at the Textile Department of Montclair State University in New Jersey, and at the Palo Alto Cultural Center in California. Grotta has photographed and designed more than 35 art catalogs for browngrotta arts including the Art of Substance, which won an American Graphic Design award. His art photographs are included in several private collections and that of the Museum of Modern Art in Portugal.
"The artists in the10th Wave III: Online are experimenting with forms and techniques in novel and surprising ways," says Grotta, "exploring new relationships among structure, design, color, and pattern." They work in a wide range of materials from linen, rubber and recycled raincoats to tree bark, silk and stainless steel to safety pins and telephone books. The works, are "superlative," says designer, curator and author Jack Lenor Larsen. Hildreth York, Curator of Art and Design at the Hunterdon Art Museum, in New Jersey terms the exhibit "extraordinary" and Christa Thurman, former curator of textiles and textile conservator at the Art Institute of Chicago, praises the presentation and composition, and "all the wonderful objects and artists."
Among the artists in the online exhibition are Norma Minkowitz, Lia Cook, Gyöngy Laky from the US, Sue Lawty and Jo Barker from the UK, Ritzi Jacobi from Germany, Jin-Sook So from Sweden, Carolina Yrarrázaval from Chile and Hisako Sekijima and Jiro Yonezawa from Japan.
Clients visit browngrotta arts' extensive website by the thousands each month, where they find artist biographies, statements, exhibit information and art news. More than half the visitors to the website are from outside the U.S.
A live companion exhibit, the 10th Wave III: In Person is currently installed at Artifact Design Group in Wilton, Connecticut through November 28, 2009, along with work by Gregory Clark, nationally recognized furniture and industrial designer. Clark is the creator of Formal Contemporary©, a limited edition series of signature pieces. Artifact Design Group is located at 66 Danbury Road (Rt. 7) in Wilton, Connecticut and open Monday through Saturday, 10:00 to 5:00. For more information about the Artifact Design Group call: 203.834.7757.
The work in both the in-person and online exhibits will be documented in a 164-page, full-color catalog, the 10th Wave III: Art Textiles and Fiber Sculpture, to be published October 30, 2009.
About browngrotta arts: For more than 20 years, browngrotta arts has promoted contemporary textiles and fiber sculpture. The firm has published 37 art catalogs and placed art work in dozens of private and corporate collections in the US and abroad, as well as in the permanent collections of the Metropolitan Museum of Art, Museum of Arts and Design, the Art Institute of Chicago, the St. Louis Museum of Art, the Philadelphia Museum of Art, the Renwick Gallery of the Smithsonian Museum, the Cleveland Museum of Art.
###