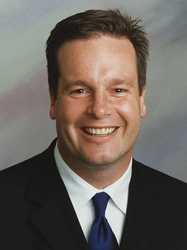 At a time when healthcare reform is top of mind for so many, Kevin's expertise and knowledge are a real asset for our team
Waltham, MA (PRWEB) October 14, 2009
Accounting Management Solutions, Inc. (AMS), a leading provider of outsourced accounting, financial management, and consulting services for private, public, and nonprofit organizations, today announced the appointment of Kevin Zerrenner as director of healthcare business development. Most recently, Zerrenner was a vice president with Bank of America, Global Wealth and Investment Management, and provided private banking services to New England-based executives and physicians.
Zerrenner is based in the Boston-area headquarters of AMS and is working with various healthcare organizations, including hospitals, provider and payor organizations, and physician groups. His focus is on providing his clients with:

Part-time and interim CFOs/controllers and other financial management specialists
SAS 112 readiness support
Form 1023 and new form 990 preparation
Revenue lifecycle review and implementation
Other high-level financial management consulting services and accounting support
"At a time when healthcare reform is top of mind for so many, Kevin's expertise and knowledge are a real asset for our team," said James Bourdon, president and chief executive officer of AMS. "His involvement with Blue Cross Blue Shield, Ernst & Young, and Bank of America's healthcare-focused teams provide him with a multi-dimensional view of the healthcare system and how organizations can leverage financial expertise to support growth and profitability."
Before Zerrenner joined the Boston-area Bank of America team, he was the president of his own financial planning firm in Indianapolis. Prior to that he spent several years with Ernst & Young's healthcare organization where he was director, business development and was involved in strategic planning for large integrated healthcare delivery systems.
Zerrenner received his master's from Ball State University and his bachelor's degree from Millikin University.
About Accounting Management Solutions
Accounting Management Solutions, Inc. (AMS) headquartered in the Boston area, with offices in Providence, RI and New York City, is a leading provider of outsourced part-time, temporary and interim accounting, financial management, and consulting services to private, public, and nonprofit organizations. As a long-term partner or a short-term solution, AMS provides: interim and part-time senior level support, including chief financial officers (CFO), vice presidents of finance, controllers, directors of finance and senior accountants; audit preparation and support; cash flow reporting and analysis; due diligence; financial reports development; GAAP/FASB compliance; IPO support; merger and acquisition accounting; new form 990 assessment and implementation; Sarbanes Oxley (SOX) compliance; SAS112/115 readiness, internal controls and much more. For additional company information, visit Accounting Management Solutions, Inc. online. For finance news and information, sign up for The AMS Report, the company's free finance industry newsletter or visit The AMS Online Resource Center.
###