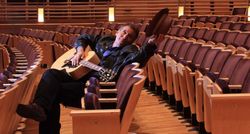 We're Not Kidding: A Tribute to Barry Louis Polisar
Silver Spring, MD (Vocus) June 30, 2009
Barry Louis Polisar achieved "overnight" success and fame in 2008 when his 30 year old song "All I Want is You" was featured in the opening credits of the film JUNO. Now indie musicians from around the world are coming together on a two-CD album, "We're Not Kidding: A Tribute to Barry Louis Polisar," to be released this fall.
Polisar has performed concerts -- songs for children and smart adults -- at schools and libraries since 1975. Aaron Cohen, lead singer of The Radioactive Chicken Heads, an indie punk rock band from Los Angeles, grew up on Polisar's music. The group has recorded their own versions of Barry's songs for years. Cohen is putting together recordings of 45 different singers and musicians from around the world doing covers of 60 Polisar songs.
Though originally created as children's songs, Polisar's music will be played in genres as diverse as hip-hop, folk, jazz, and rock. Three totally different versions of "All I Want is You" from JUNO are featured, including one performed in French by a singer from Brittany. There is even a Klezmer version of Barry's song "Don't Put Your Finger Up Your Nose" sung entirely in Yiddish.
A number of the tribute album songs are already posted on Polisar's web site:
http://www.barrylou.com/tributeAlbum.html
"The best part for me," Polisar says, "is that most of these artists had my albums as kids and many claim me as an early influence. I can't begin to tell you what that means to me... and how deeply that touches my soul."
Polisar's performance of his song during the animated opening of JUNO has reunited him with fans who had his vinyl recordings as kids. The soundtrack to JUNO has sold over a million copies, won a Grammy award, and earned Barry a lifetime achievement award from the Children's Music Web.
For additional information, contact Aaron Cohen at snailsounds at yahoo dot com or Barry Louis Polisar at 301-384-9207 or Barrylou at Barrylou dot com.
###