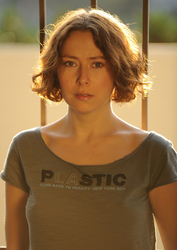 I feel like I'm a part of a rags to riches Hollywood story, coming from nowhere to this podium
Hollywood, CA (PRWEB) March 11, 2009
Imperia Entertainment, Inc. 's (Pink Sheets: IMPN) award winning romantic thriller, 'Say it in Russian,' with Faye Dunaway (Bonnie and Clyde) captured the Golden Palm for Best Feature Film and a Gold Kahuna Award at the 2009 Honolulu International Film Festival Sunday in Honolulu, Hawaii. Agata Gotova was presented the Festival's Award for Best Actress. "I feel like I'm a part of a rags to riches Hollywood story, coming from nowhere to this podium," said Gotova, as she was presented with the award. "And I'm very thankful that out of the hundreds of actresses that were considered you chose me," she added.
"Say it in Russian is much like Agata's story," said Kenneth Eade, Executive Producer. "Coming from Russia, you find that doors in Hollywood are closed. People questioned why we would shoot an independent film in three countries, and score original music with a full orchestra when most independent films go straight to video." Said distributor Jerry Dalton of Dalton Pictures & Entertainment. "This one is special, because it's not like most independent films." The film debuts on the big screen May 4th in 95 cities across the United States as part of Dalton Pictures and Carmike Cinemas' historic Independent Film Series, which began last week.
Filmed in Paris, Moscow and Los Angeles, with award winning exceptional cinematography and a fully orchestrated original score by Russian Superstar Igor Nikolaev, "Say it in Russian" stars Russian actress Agata Gotova, in the lead role of the film as Daria Larina, the daughter of a rich Russian mafia oligarch played by Serbian actor Rade Serbedzija (Snatch, Shooter). Gotova's character falls in love with the American Andrew Lamont, played by actor Steven Brand (The Scorpion King,) but Andrew soon finds on a visit to Moscow that he is involved with a family that is more complicated and dangerous than he ever imagined. Academy Award Winner Faye Dunaway plays the role of Jacqueline, a Paris socialite who acts as the matchmaker for Andrew and Daria.
"Say it in Russian" is the winner of Best Feature Film, Best Actress and the Gold Kahuna Award for the 2009 Honolulu International Film Festival, the Silver Medal Winner of the New York Festivals Film 2009 Film and Video Competition, Winner of Best Big Budget Film from the Myrtle Beach International Film Festival, Winner of Best in Show from The Indie Distribution Fest, as well as the winner of The Indie Fest's Award of Excellence in Cinematography and Award of Merit for Actor Rade Sherbedgia, and the official selection of the 2009 Omaha Film Festival, the 2008 Geneva Film Festival, and the 2008 Other Venice Film Festival. Imperia Entertainment and Dalton Pictures plan a series of unprecedented Hollywood style red carpet gala events in several selected venues in the Midwest and South to kick off the theatrical release.
###