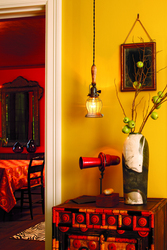 Portland, OR (PRWEB) August 27, 2009
Inspired by the classic utilitarian designs from the turn of the 20th century, Rejuvenation has developed two new pendants that can be personalized with several shade options. Wiley and McCoy maintain the raw, industrial look of the originals, but are a good fit for both commercial and residential applications; installed individually or in multiples over bars, tables and counters.
Industrial lighting was developed in true form-follows-function style during an era of rapid technological advancements. Originally used as portable lights or sold as "electricians' supplies", it was not associated with any particular architectural style or movement, but nearly one hundred years later, we see a new appreciation of this once purely functional form and its timeless allure.
Design Details for Wiley and McCoy
Based on the classic "trouble finder" light, as Sears called it back in 1910, Wiley has been repurposed from its original hand-held design. It was once widely used as a portable lighting device for work in, engine compartments, garages, barns and crawl spaces. The Wiley maintains its original look with an upgraded FSC-Certified oak handle; available in black or natural stain finishes. Its counterpart the McCoy is offered without the handle, for those who prefer a truly spare, utilitarian style. For detailed configuration and pricing information, please visit http://www.rejuvenation.com/wiley or http://www.rejuvenation.com/mccoy
Finish: Graphite metal finish can be paired with either a black or white porcelain canopy
Cord Options: Choose from a two-conductor twisted cord in brown or black cloth, or UL approved black matte vinyl
Price: $99.00-$129.00
For further customization options, four new shades have been added specifically for these fixtures. Cage shades, once made to protect the user from being burnt or breaking the exposed bulb now add to the aesthetic. One is an open bell shape and the other is known as the "daisy" and opens at the bottom for changing the bulb. Both are priced at $20.00.
Two painted steel shades are also being introduced for more personalized options: an 8" diameter, deep cone shade and a 10" diameter, flat cone. Both shades are available in a traditional Dark Green, and more contemporary colors: Ruby Red, Flint Blue, or Black Enamel. The finish is nickel plated to prevent rust, while the interior surface has a satin nickel plating which adds a much warmer, slightly industrial feel to the look. Priced at $25.00 each. Each pendant can be used with any of the numerous 2-1/4" shades available from http://www.rejuvenation.com/fittersz2.25/templates/shades.html -price varies.
About Rejuvenation
Rejuvenation was founded in 1977 with a passion for old houses and buildings. Today, it is America's largest manufacturer and leading direct marketer of classic American lighting and house parts. Inspired by history, period-authenticity and customer creativity, Rejuvenation's diverse line spans the 1870s to 1960s. Collections include: Early Eclectic, Period Basics, Historic Revivals, Arts & Crafts, Colonial Revival, and Mid-Century Modern. Homeowners can stay true to their home's era, and also have the flexibility to mix-and-match styles to create more personalized and eclectic environments.
The company donates ten percent of its after-tax profits to non-profit organizations dedicated to environmental conservation, historic preservation, the arts, and equal-access housing. Products are sold through the company's catalog, retail stores in Portland, Ore. and Seattle, Wash, and website http://www.rejuvenation.com.
###