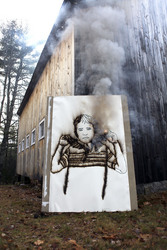 "We're an oasis, an escape from the cubicle overload of the art fairs," says exhibition's curator, Jerry Riggs.
Somerville, MA (PRWEB) December 4, 2009
"UNPLUGGED," the latest exhibition from J. Riggs Fine Art, opens December 3-6 in the Wynwood Arts District. Jerry Riggs and his international team of artists have transformed the front of their building into a covered, open-air lounge, complete with free wifi, freshly prepared food and a full service bar. "We're an oasis, an escape from the cubicle overload of the art fairs," says exhibition's curator, Jerry Riggs. "Artists and collectors come and go from here to the fairs. They use us as their clubhouse. We're a refreshing escape from the art malls and hot concrete."
The exhibition, "UNPLUGGED," will feature new works from J. Riggs Fine Art international stable of artists including: Baergliecht, Cheryl Dunn, Jonathon Hexner, Jeff Kling, Rodney Taylor, Tim O. Walker. This year's installation will be more casual than in the past. Rather than hermetic, white-cube presentation, each artist in the show will bring their newest work, fresh off the walls of their studios, unframed and unapologetic. The artists will also have portfolios of their new work on hand.
Cheryl Dunn (of Beautiful Losers' fame) is a New York City based photographer and filmmaker. She will be exhibiting new prints from her America Series. Boston artist, Jonathon Hexner, blows up his drawings. He will be exhibiting a large-scale dynamite fuse portrait and several smaller gunpowder drawings. Amsterdam installation artist Jeff Kling will be creating a site-specific installation outside on the walls of the lounge. Buffalo, NY, artist Rodney Taylor paints with ceramic slurries and pigment. He will exhibit several new works on paper. Miami photographer Tim O. Walker's makes one-of-a-kind photographic works on vinyl or canvas. He has been photographing the city and people of Miami for decades. Swiss collaborative team, Baergliecht photographs the Swiss Alps at night using magnesium charges to illuminate the mountains. One must see their pictures to believe them.
Understanding that there are no boundaries to the art world, J. Riggs Fine Art recruits artists from remote regions of the creative world, with a particular focus on the fringes--the creative space where fine art borders on theatre, film, industrial design, literature, dance, fashion, music… J. Riggs Fine Art represents artists who make change.
Escape from the fairs at Jerry Riggs Fine Art.
DETAILS:
Address: 2341 N. Miami Avenue, Wynwood Arts District
Exhibition Title: UNPLUGGED
Dates: December 3 – 6, 2009
Gallery Hours: 12/3 – 12/5: 10am-10pm, 12/6: 10am-6pm
Artists: Cheryl Dunn, Jonathon Hexner, Jeff Kling, Rodney Taylor, Tim Walker, Baergliecht.
Curator: Jerry Riggs
URL: http://www.jerryriggs.com
CONTACT:
Kate Churchill
617-216-6686
# # #