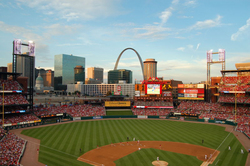 We are very proud that Sportservice was selected to cater these fantastic All-Star events, and we look forward to showcasing our culinary capabilities
St. Louis, Mo. (PRWEB) July 2, 2009
Delaware North Companies Sportservice, the longtime concessionaire for the St. Louis Cardinals® and many other major professional sports teams, is gearing up for double duty at Major League Baseball's® 2009 All-Star Game® in St. Louis.
In addition to handling concessions and premium dining for the July 13 Home Run Derby® and July 14 All-Star Game, each of which will attract 40,000-plus fans at Busch Stadium, Sportservice was also selected by Major League Baseball (MLB) to cater its two major hospitality events those same days.
After the Home Run Derby, Sportservice will serve an anticipated 4,200 invited guests, including team owners and state and local dignitaries, at MLB's late evening All-Star Gala. The next afternoon Sportservice will cater the All-Star Pre-Game Party, also expected to attract 4,200 guests. Both parties are taking place in a tented hospitality center that is being created in the Ballpark Village area near Busch Stadium®.
It is believed to be the first time that MLB has used the concessionaire for the All-Star Game venue, rather than an outside company, to cater the offsite events.
"We are very proud that Sportservice was selected to cater these fantastic All-Star events, and we look forward to showcasing our culinary capabilities," Sportservice President Rick Abramson said.
"Our thanks go to Major League Baseball and to the Cardinals, with whom we have worked at three different ballparks for five decades. For this first All-Star Game at the beautiful new Busch Stadium, we're planning something special for St. Louis to honor the city's rich culinary and baseball traditions," Abramson said.
Sportservice is also providing concessions for fan events at Ballpark Village, including its softball field. In addition, Sportservice operates the Cardinals' retail stores and kiosks at Busch Stadium and the new Cardinals Team Store presented by Nike® in the former International Bowling Museum and Hall of Fame at Ballpark Village.
To carry out its All-Star Game plans, Sportservice will bolster its already large food service and hospitality staff of 1,500 at Busch Stadium with support staff and food and beverage managers from other Sportservice locations, including its operations in the region at St. Louis's Edward Jones Dome and Hammons Field in Springfield, Mo.
In all, Dan Fetcho, Sportservice's regional general manager at Busch Stadium, will have a total staff of 3,000 to handle both the Busch Stadium and Ballpark Village food service and catering operations, respectively.
Chef Jeramie Mitchell, one of Sportservice's four regional executive chefs and the top chef at Busch Stadium, is overseeing the entire culinary operation. As always, Mitchell's own smoked beef brisket will be offered at stadium buffets, and he plans a few surprises with suite and club menus. Concessions range from traditional ballpark fare to pulled pork sandwiches, spicy calzones and veggie burgers.
For the All-Star Gala and Pre-Game Party, Mitchell developed a St. Louis- and Missouri-themed menu that includes culinary traditions from city neighborhoods such as The Hill, the city's Italian-American neighborhood, and Soulard, named for the Frenchman who surveyed colonial St. Louis and now site of an annual Mardi Gras celebration.
To assist Mitchell, more than 15 Sportservice corporate culinary executives and chefs from around the country will be on hand, including fellow regional executive chefs James Major (Cleveland Indians®) and Mark Szubeczak (Detroit Tigers®). Also scheduled to assist are Sportservice executive chefs Eric Borgia (San Diego Padres®), Cristobal Vazquez (Texas Rangers®), Scott Pobuda (Cincinnati Reds®), Pastor Jiminez (Milwaukee Brewers®), Bill Bateman (Reno Convention Center) and Joseph Ditri (Columbus Blue Jackets®).
In addition, nearly 100 student volunteers from culinary schools in the region will assist with food preparation by working as cooks for the two main hospitality events. The American Culinary Federation's® local chapter, the Chefs de Cuisine Association of St. Louis, worked with Sportservice on the initiative.
Preparation begins in earnest the week prior to the game with delivery of raw food products and setup of the tented hospitality area, including hot and cold tents, buffet equipment and bars. Off-site food preparation at Busch Stadium and the Edward Jones Dome and loading and moving foods onsite will begin that Thursday, with final production by the back-of-the-house culinary team of chefs and cooks beginning over the weekend and into Monday.
Providing Sportservice with additional support for the All-Star Game and events in St. Louis are local partners Keystone Staffing, The Aries Company, Switch, and Kuoni Events.
Sportservice supports the communities in which it operates in many ways, including through its fund-raising program for non-profit groups that provide volunteers to operate concessions. Last year, Sportservice contributed about $13 million to communities across the country, including $1.2 million to St. Louis-area non-profits participating at Busch Stadium.
Serving thousands of people at major sports and entertainment events and high-level catering and hospitality are all nothing new for Sportservice and its parent company, Delaware North. Among the venues at which Sportservice operates food service and hospitality are, of course, Busch Stadium; Comerica Park® in Detroit, which hosted the 2005 All-Star Game and was the other site of the 2006 World Series in addition to Busch Stadium; Miller Park® in Milwaukee, site of the 2002 All-Star Game; TD Banknorth Garden in Boston; and Soldier Field® in Chicago. Delaware North also handles food service at the Australian Open tennis tournament and the new 90,000-seat Wembley Stadium in London.
More information about Sportservice's 2009 All-Star Game food service and hospitality plans and operations is available at http://media.delawarenorth.com/press_kits.cfm?presskit_id=56.
About Delaware North Companies Sportservice
Delaware North Companies Sportservice is one of the nation's leading food, beverage and retail management companies, providing concessions, gourmet catering and fine dining operations at more than 50 professional sporting venues, entertainment complexes and convention centers across the United States and Canada. Sportservice has served an impressive collection of sporting events and clients, including the World Series®, the National Hockey League® and Major League Baseball's All-Star Games, Stanley Cup® Championships and the Olympic Games®.
Throughout its 90-year history, Sportservice has demonstrated that it knows what it takes to effectively develop, operate and manage multi-faceted kitchens, restaurants, suites, fine dining and retail facilities in order to meet the changing demands of today's fans. From introducing healthier food selections and creative cuisine to twists on traditional fare and new organic options, Sportservice continues to innovate and enhance the fan experience.
About Delaware North Companies
Delaware North Companies is one of the world's leading hospitality and food service providers. Its family of companies includes Delaware North Companies Parks & Resorts, Delaware North Companies Gaming & Entertainment, Delaware North Companies Travel Hospitality Services, Delaware North Companies Sportservice, Delaware North Companies International and Delaware North Companies Boston, owner of TD Banknorth Garden. Delaware North Companies is one of the largest privately held companies in the United States with revenues exceeding $2 billion annually and 50,000 associates serving half a billion customers in the United States, Canada, the United Kingdom, Australia and New Zealand. For more information, visit http://www.DelawareNorth.com.
# # #