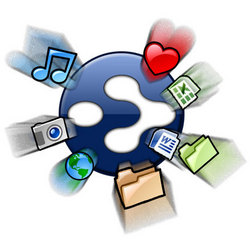 Learning and insight comes from integrating information and making connections. PersonalBrain's flexible linking technology enables users to gain deep insight on ideas and retain knowledge faster
Marina del Rey, CA (PRWEB) September 14, 2009
TheBrain Technologies announces the expansion of the PersonalBrain product line into the education and eLearning market. With discounted pricing for students, teachers and school administrators, TheBrain teams with leading educational software reseller Creation Engine, Inc.
"We are thrilled to offer PersonalBrain's interactive visualization and information management capabilities to our academic customers," said Stephen Lai, Vice President of Creation Engine, Inc. "With PersonalBrain students get the big picture and access to all relevant information. The net result is significant improvements in understanding and shorter learning cycles on complex subjects. PersonalBrain's context-rich connections enable people to see the implication of ideas and that in turn fosters new connections that lead to more discovery, knowledge and creative output."
Over 85% of Ivy League universities use PersonalBrain software in applications including research and analysis, interactive course syllabuses, information management, and concept and mind mapping. Users can connect their ideas associatively and create unlimited networks of information that concretize thinking, illustrate complex relationships and integrate disparate information resources. In contrast to static mind maps or folder structures, PersonalBrain's dynamic visualization shifts contexts, enabling multidimensional data organization and attracting the attention and focus of users. The program's visual dynamics and unlimited linking capability makes the software a popular choice with educational content providers including Encyclopædia Britannica and the James Burke Institute.
"Learning and insight comes from integrating information and making connections. PersonalBrain's flexible linking technology enables users to gain deep insight on ideas and retain knowledge faster" said Shelley Hayduk, Vice President of Marketing at TheBrain Technologies LP. "With the addition of Creation Engine, Inc. as a PersonalBrain reseller and our new academic discounts, even more students, teachers and administrators will be able to capture and leverage knowledge for themselves and to share with the greater academic community."
For a live demonstration of enhancing eLearning with visual connections, TheBrain Technologies is hosting a Web event, "Crystallizing Knowledge and Learning with PersonalBrain" on Wednesday, September 16th at 11:00 am Pacific, 2:00 pm Eastern Time.
Topics include:

Building a personal knowledgebase to increase understanding
Re-contextualizing information sources to create a perspective that matches your thinking
Analyzing relationships and mapping out information networks on complex subjects
Example Brains for teachers, students and researchers
To sign up for this event go to:
https://www1.gotomeeting.com/register/851734504
Pricing and Availability
PersonalBrain 5.0 is offered in three editions for immediate download: Free, Core, and Pro. PersonalBrain Free is offered at no charge for non-commercial use and lets anyone link ideas, Web pages, images and notes. The Pro and Core editions include more advanced capabilities and are normally $249.95 and $149.95 respectively. Students, teachers and accredited educational institutions are eligible for discounted pricing of $199.95 for PersonalBrain Pro and $99.95 for PersonalBrain Core.
PersonalBrain runs on Windows 2000, 2003, XP, Vista, Mac OS X 10.4+, and many flavors of Linux
About TheBrain Technologies
TheBrain Technologies helps people see, share and find information faster. TheBrain's PersonalBrain™ dynamic mind mapping software helps users see and organize their information the way they think about it. TheBrain also offers an Enterprise Knowledge Platform, BrainEKP™, which combines a natural language search engine with a compelling visual display of topics so users can see and discover critical information relationships. TheBrain's customers include: Encyclopædia Britannica, Navy Special Warfare, Tyco, Accenture, Park Nicollet, Medtronic, US Department of Defense, California Casualty Insurance, a leading media research company, retail chain, financial services company and other Fortune 500 organizations. Download PersonalBrain at http://www.thebrain.com or e-mail info(at)thebrain.com for more information.
About Creation Engine, Inc.
Creation Engine provides software and hardware to the K-12 and higher education markets at academic discount prices. Creation Engine offers excellent customer service, competitive pricing, in-depth product and site licensing knowledge, and prompt delivery. Since opening for business in 1994, Creation Engine has sold to more than 50,000 teachers and students, over 5,000 colleges and universities, and over 5,000 K-12 schools. For more information visit http://www.creationengine.com/
TheBrain, BrainEKP, PersonalBrain, and Software for Thinkers are trademarks or registered trademarks of TheBrain Technologies LP. All other corporate names or trademarks stated herein are the property of their respective companies.
###