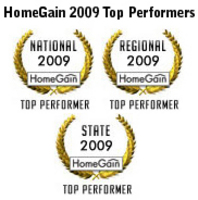 We are proud to recognize these agents for their high level of accomplishment
Emeryville, CA (Vocus) January 27, 2010 –
HomeGain, a leading provider of online marketing programs that connect real estate agents and brokers with home buyers and sellers, today announced its 2009 Top Performers™.
For the past decade HomeGain has annually recognized its most successful and productive real estate agents and brokers who are members of its AgentEvaluator® product in each of six regions across the United States, as well as the overall top performing agents in all 50 states.
Overall, in 2009 HomeGain's top five Realtors earned an average of $146,885 in gross closed commissions from their HomeGain AgentEvaluator business and an average of 21 closed transactions.
"We are proud to recognize these agents for their high level of accomplishment," stated Louis Cammarosano, General Manager at HomeGain. "We are pleased that HomeGain is able to contribute to their achievement by connecting them with qualified home buyers and sellers."
HomeGain's 2009 Nationwide Top Performer in total number of home sales for the fourth consecutive year is Barbara Tidwell with Keller Williams Realty in Texas, closing 33 home transactions from AgentEvaluator business. The 2009 Nationwide Top Performer by total commissions earned for the fifth consecutive year is Eric Pakulla with RE/MAX Advantage Realty in Maryland, earning $268,503 from AgentEvaluator. Barbara and Eric are also the Top Performers in their regions and states.
"I am thrilled to be announced as the 2009 HomeGain National Top Performer," stated Eric Pakulla who is ranked in the top five in the country by RE/MAX and was HomeGain's first agent to earn over a million dollars from HomeGain business in 2007. "This is an award that I have worked hard at earning. HomeGain is a great tool that I use to convert high quality internet leads. Their program, AgentEvaluator, allows me to work in other areas of my business while they generate legitimate buyer and seller leads. They have a vested interest in my success. For any agent that isn't currently using HomeGain, sign up now."
Regional HomeGain 2009 AgentEvaluator Top Performer award recipients include:

Mid-West Region by Highest Dollar Volume: Karen Breen Elia, RE/MAX Exclusive Properties, IL
Southeast Region by Highest Dollar Volume: Melinda Schnur, Re/MAX Allegiance, VA
Southeast Region Highest Volume of Home Sales: Mike Beernink, Century 21 Findley, GA
Northwest Region by Highest Dollar Volume: Gregory Rippel, Coldwell Banker Danforth, WA
West Region by Highest Dollar Volume and Volume of Home Sales: Sara and Steve Gerhart, RE/MAX Masters, CA
The 2009 Rookies of the Year are Alex Kybal of San Diego House Hunting in California for Highest Dollar Volume and Margaret Graveline of RE/MAX Prestige in for Highest Volume of Home Sales in Massachusetts.
For a complete list of AgentEvaluator Top Performing real estate agents, including honorable mentions, Top Performers listed by state and HomeGain end of year highlights, visit the HomeGain Real Estate Blog.
AgentEvaluator is a marketing program for real estate agents who are looking to connect with online home buyers and sellers. To learn about the program, visit http://www.homegain.com/agentevaluator.
About HomeGain
HomeGain® is a leading provider of online marketing solutions that connect real estate agents and brokers with home buyers and sellers. HomeGain offers free services to find and compare real estate agents, research home values, and view homes for sale. Realtors use HomeGain's real estate marketing programs, products and tools to connect to consumers, promote their services and grow their business. HomeGain.com receives an average of over five million web visits per month, ranking it a top real estate website worldwide for nearly a decade. HomeGain is your real estate connection.
###