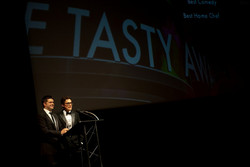 The TASTY Awards is the first awards show to spotlight annual achievements in food and style programming on TV, in Film, and Online
San Francisco, CA (PRWEB) March 24, 2010
TasteTV is proud to announce the online premiere of the 2010 TASTY AWARDS SHOW on Hulu at Hulu.com/tasty-awards. The Annual TASTY AWARDS celebrate the best in food and fashion programs on TV, in Film, and Online. The star studded 2010 Awards include appearances by celebrities Anthony Bourdain, Zane Lamprey, Joanne Weir, Leslie Sbrocco, Debi Mazar, Nathan Lyon, Marisa Churchill, and more.
The TASTY Awards is the first awards show to spotlight the year's best achievements in food, wine and style programming. Regardless of whether they are on the web or on television, on a mobile device or on a cinema screen, a celebrity chef or a home chef, each has a chance to win this coveted honor.
2010 TASTY Awards winners include: Gary Vaynerchuk (Tastemaker of the Year), Martin Yan, Paul Prudhomme (Pioneer Awards), Meryl Streep (Outstanding Performance), Giada De Laurentiis (Outstanding Entertainer), "Cloudy with a Chance of Meatballs" (Outstanding Animation), Tim Gunn (Stylemaker of the Year), Modelinia, H&M, Rachel Zoe Project (Breakout Fashionistas of the Year), Three Sheets (Best Drink or Beverage Program - TV), Raising the Bar with Jamie Boudreau (Best Drink or Beverage Program - Web), No Reservations (Best Food Program - TV), Project Runway (Best Fashion or Design Program TV), No Reservations (JetBlue Airways Award for Best Food Travel Series: Television), Without Borders (JetBlue Airways Award for Best Food Travel Series: Web), Food Inc (Best Film or Documentary), Cake Boss (Best New Series), Naked Wine Show (Best Critic or Review Series), Average Betty (Best Home Chef in a Series), and "Rehab: Party at the Hard Rock" (Guilty Addiction of the Year).
In addition to Hulu, the Tasty Awards also is broadcast on hundreds of television stations nationwide reaching millions of households, and on cable on demand.
Nominations for the 2011 TASTY AWARDS begin in July 2010, as well as the announcement of the 2011 Judges Panel and new Partners and Sponsors. More information at http://www.TastyAwards.com
ABOUT TASTETV
TasteTV is a leading food and lifestyle multi-platform digital media network, launched in 2004. Founded one year before the launch of YouTube or the video iPod, TasteTV has established a stellar record of pioneering vision and trend forecasting across the online, traditional, and new media industries. In addition to the TASTY Awards, TasteTV also sponsors events such as the International and Luxury Chocolate Salons in San Francisco, Seattle, Los Angeles, Chicago, Las Vegas and other locations, as well as publishes topical books and guides.
# # #