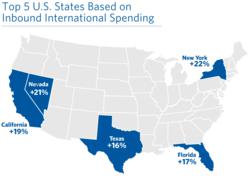 San Francisco, CA (PRWEB) April 25, 2011
According to the new Tourism Outlook: USA report from Visa Inc. (NYSE:V), Visa cardholders seemed optimistic in 2010 and took more trips and spent more on international purchases accordingly. VisaVue Travel Data from 2009 and 2010 showed that spending by international cardholders traveling to the U.S increased by 18 percent, from $29 billion to more than $34 billion. The report also indicates that spending by U.S. Visa cardholders traveling internationally increased by six percent, from $29 billion in 2009 to $31 billion in 2010.
"Despite economic uncertainties, the United States continues to be a major contributor to the global tourism economy, both as a destination of choice and as a critical source of tourism revenue for many countries," said William M. Sheedy, group president, Americas, Visa Inc. "Tracking this spend data and turning it into actionable information enables our tourism partners, both domestically and internationally, to prepare for visitor business and create targeted tourism marketing programs that help sustain long-term growth."
Where Travelers are Coming From
In 2010, the global tourism industry showed signs of strength. With an overall 18 percent increase in 2010, visitors from Canada ($9.2 billion), the United Kingdom ($2.5 billion) and Mexico ($2.0 billion) rounded out the top three inbound source countries, increasing tourism spend in the U.S. by 18 percent, 11 percent and 18 percent respectively.
Visa cardholders from China, Australia and France also had a notable 2010 travel year. Cardholders from each country broke into the billion-dollar tourism spend category with increases of 64 percent, 32 percent and six percent respectively. Other top source countries for inbound tourism to the U.S. during the calendar year are detailed below.
Top 2010 Inbound Source Countries
Issuer Country 2010 2009 Percent Growth (+/-)
Canada $9.2B $7.8B 18%
United Kingdom $2.5B $2.3B 11%
Mexico $2.0B $1.7B 18%
Brazil $1.9B $1.2B 63%
Japan $1.8B $1.7B 6%
China $1.1B $700M 64%
Australia $1.1B $861M 32%
France $1.0B $975M 6%
South Korea $824M $651M 27%
Germany $800M $769M 4%
When visiting the U.S., the most popular destinations for international Visa cardholders were Florida, New York, California, Texas and Nevada, with each state experiencing tremendous double-digit growth compared to 2010.
Where U.S. Travelers are Headed
Similar to previous years, Canada and Mexico remained the top two most popular destinations for U.S. Visa cardholders in 2010. Canada, host of the 2010 Winter Olympic games, was the most popular destination for U.S. travelers, as they spent $3.5 billion on their Visa payment cards (up eight percent from 2009). Mexico was a close second, as American travelers spent $3.1 billion in 2010, followed closely by popular European destinations, including the United Kingdom, Italy, France and Germany.
Top 2010 Outbound Destination Countries
Issuer Country 2010 2009 Percent Growth (+/-)
Canada $3.5B $3.3B 8%
Mexico $3.1B $2.9B 7%
United Kingdom $1.6B $1.5B 7%
Italy $1.3B $1.3B 4%
France $1.3B $1.2B 4%
Germany $1.1B $1.2B -2%
Puerto Rico $1.1B $967M 9%
China $741M $626M 18%
Spain $731M $695M 5%
Japan $659M $614M 7%
As the economy steadily recovers and the use of digital currency continues to play a significant role in the everyday lives of travelers, Visa will continue to work with its partners in the tourism industry to ensure that both residents and visitors to the U.S. enjoy the benefits of electronic payments.
For more information on VisaVue travel data and to view a complete copy of the Tourism Outlook: USA report, please visit corporate.media.com.
About Tourism Outlook: USA
Visa cardholder spending data cited is based upon VisaVue® Travel data, which reviews tourism spending on Visa-branded payment cards by international visitors from key source countries while visiting the United States during the calendar years 2010 (Jan. 1 – Dec. 31, 2010) and 2009 (Jan. 1 – Dec. 31, 2009). These findings are based upon VisaVue® Travel data. Visa introduced the VisaVue® Travel tourism reports to a pilot group of U.S. tourism organizations in early 2008 and have continued to produce reports on a variety of popular tourist destinations every year since.
About Visa
Visa is a global payments technology company that connects consumers, businesses, financial institutions and governments in more than 200 countries and territories to fast, secure and reliable digital currency. Underpinning digital currency is one of the world's most advanced processing networks—VisaNet—that is capable of handling more than 20,000 transaction messages a second, with fraud protection for consumers and guaranteed payment for merchants. Visa is not a bank and does not issue cards, extend credit or set rates and fees for consumers. Visa's innovations, however, enable its financial institution customers to offer consumers more choices: pay now with debit, ahead of time with prepaid or later with credit products. For more information, visit http://www.corporate.visa.com.
# # #