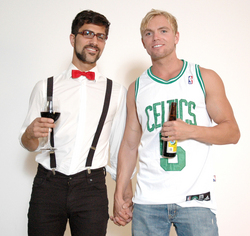 The gay community needs fun, alternative ways to spend their nights out.
Los Angeles, CA (PRWEB) January 4, 2010
Newly formed Los Angeles-based gay events start-up LA Lords expands its unique gay speed dating services.
January and February 2010, LA Lords will be hosting a variety of themed nights in a private downtown Los Angeles loft. One will be an artist-themed event which is geared toward artists across all disciplines, from musicians, painters and sculptors to designers (graphic, costume, clothing, make-up), performance artists, actors, comedians and even magicians! Event will be limited to a maximum of 36 people. The dates are run in rounds of 3-5 minute sessions. Other themes include a "Hotter than Clooney" night which caters to an older crowd and "February's Valentine Lonely Heart's Club" night.
LA Lords was created by musician/songwriter Michael Mangia who found that there was something lacking in gay online dating services in Los Angeles and decided to provide another way for gay men to meet each other. Michael says, "These days people meet online, talk on the phone and get to know each other and when they finally meet there's no chemistry or the person doesn't look anything like their picture," he states. "I think when you put yourself in an controlled (but relaxed) environment, where everyone is pretty much there for the same reasons, it opens up possibilities and forces you to meet people you may never have gone up to at a bar. The gay community needs fun, alternative ways to spend their nights out."
The company uses a unique matching system that allows people to choose either a friend or date match so if there isn't love at first sight, there's possibility to make new friends
During the short time in which LA Lords has established itself, it's already made love connections for its customers. A portion of all proceeds goes to the Human Rights Campaign which is active in the fight for gay and lesbian equal rights and the 'No on Prop 8' campaign.
Several more gay themed events are planned to take place this winter/spring throughout the Los Angeles area.
# # #