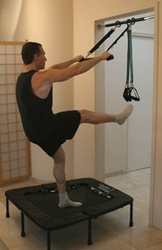 Bouncercise combines the three components of fitness in one movement: strength, aerobics and stretching.
Paso Robles, CA (PRWEB) January 5, 2010
With the New Year comes the opportunity to test the latest developments in the world of exercise and weight loss. Dr. James Rota, an expert in the fields of ergonomics, biological dentistry and detoxification, developed an exercise that health and wellness authorities say deserves serious consideration for effective weight loss and improvement of overall health.
Dr. Rota's own journey includes a compelling story of how he survived industrial levels of mercury in his body to recovering from a nearly severed leg. "I originally developed Bouncercise to detoxify my body, but it also was decisively instrumental in successfully rehabilitating my severely broken leg." In fact, Dr. Rota, age 75, made such a thriving recovery, that he was able to dance with Edyta Sliwinska from Dancing with the Stars. He was able to easily keep up with the 27 year old professional dancer, as can be seen in Dr. Rota's channel on YouTube.com.
"This new method of exercise is beneficial on so many levels," says Dr. Rota. Weight loss and fitness are also an extremely important benefit of Bouncercise. For those people that do exercise, most will perform strength training or resistance training exercises, take an aerobics class, and then do some stretching with yoga or Pilates. Dr. Rota brought efficiency to that process, combining all three components of fitness: strength training, aerobic exercise, and muscle stretching.
Bouncercise is defined as the dynamic blending of a gentle bounce or rebounding with a resistance system. Bouncercise produces a rhythmic movement that facilitates rehabilitation and strengthening on a cellular level. At this level, cells are cleared of their toxins and nourished by way of the circulation occurring in the lymphatic system.
"In order to accomplish this synergy of movements, I have experimented with many bouncing surfaces and came up with one that gave a more gentle, less jarring bounce than most circular rebounder or mini trampolines, paying special attention to the quality of the springs. We created a simple apparatus called the Freedom Spring System, which consists of a specially shaped rebounder and a resistance system that attaches to a door frame or a wall." More information about the Freedom Spring System may be found at http://www.FreedomSpring.com
"As a busy woman approaching 50 years old, I am becoming more concerned about my own health and longevity," says Dori Rota, a confirmed multi-tasker and Paso Robles internet business developer. "My job requires lots of computer time, and the stagnation has really taken a toll on my body. I have sore shoulders, widening hips and have gained more weight than I care to admit." Ms. Rota is documenting her Bouncercise journey while using the Freedom Spring System, which can be followed on her YouTube.com channel, under the name of "zumaview."
Wayne L. Westcott, Ph.D. (fitness research director at the South Shore YMCA, and author of 20 fitness books) reports that over an eight-week period, women who performed thirty minutes of aerobic exercises three times a week lost 3 lbs of body-fat and lost ½ lbs of muscle. Whereas, women who performed fifteen minutes of strength training and fifteen minutes of aerobics three times per week lost 10 lbs of body-fat and gained 1 ½ lbs of muscle.
With life being so busy, using our time efficiently is an important factor in making choices for our health and everyday needs. Bouncercise combines all the components of fitness and brings the well-documented benefits of the gentle bounce to people of all abilities, along with effective results.
For additional information about Bouncercise, weight loss, detoxification, rehabilitation, rebounding with resistance or strength training, visit http://www.FreedomSpring.com.
About Dr. James Rota:
Dr. Rota, a practicing dentist for 45 years, has been a UCLA Assistant Professor and a pioneer in Dental Ergonomics. As a biological dentist for the past 25 years, he helped develop the protocols for safe mercury removal from the mouth, which are commonplace in biological dentistry today. From his expertise in ergonomics in biological dentistry, Dr. Rota has also received multiple patents for his development of the Dental Cognitron Service System, Freedom Spring System and Bouncercise.
###