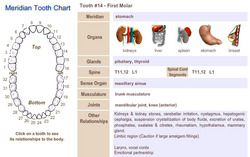 I know you dentists are killing my patients. I just want to find out how you are doing it.
Los Angeles, CA (PRWEB) January 28, 2010
Most people are familiar with Chinese Medicine or acupuncture and have heard about meridians , the channels through which energy flows in the body. Each organ, gland and body structure has an associated meridian, including the teeth.
What does all this mean to health and wellness? Well, if someone has a bad tooth, the energy flow through the meridian belonging to that tooth will be altered. This in turn can affect the health of all the other organs on that meridian. For example, Tooth Number 14, the upper left first molar tooth, is on the same meridian with the kidneys, liver, spleen, stomach and breast. So, if this tooth has a problem, it may affect energy flow through the meridian, and the health of those organs may be affected as well.
Dr. Thomas L. Stone, MD, a pioneer in alternative medical diagnostic and treatment strategies, once attended a dental health seminar. And when he was asked why an MD would attend a dental conference, he said, "I know you dentists are killing my patients. I just want to find out how you are doing it."
One holistic dentist was so inspired by Dr. Stone's statement, that he wrote a book entitled, "Rescued By My Dentist," which is an account of his patients with health problems related to their mercury amalgam fillings.
The use of mercury/silver amalgam and gold in tooth restorations will produce electricity in the mouth. This electrical current will follow along the normal nerves in the human body in which a natural current is traveling from the nerve center to all areas of the body. This additional electricity being generated in the mouth is too much for the body to handle and, therefore, reacts in the swelling of the joints, pain and eventual deterioration of healthy tissue or organs.
Experienced biological dentists, who have an understanding of the teeth and body connection, are able to consider the oral cavity for the possible cause of symptoms in patients that have been unable to secure a diagnosis through regular allopathic medicine channels.
Dr. James Rota, a biological dentist in Los Angeles says, "Dentists and physicians need to work together in effectively treating patients with symptoms of mercury toxicity." Dr. Rota will be holding a free seminar in Los Angeles on February 24, entitled, "Poisons in Your Mouth." For more information, visit http://www.DrRota.com.
TALKInternational.com, under the direction of Dr. Rota, for the past twelve years has been an important resource for the consumer regarding mercury toxicity. Visitors will find support groups, news, education, and a holistic/biological dentist directory.
"We also have a free Mercury Toxicity Test that our visitors can take online to help educate themselves about the symptoms of mercury poisoning," says Dori Rota, Webmaster for TALKInternational.com. "It is the mission of TALKInternational.com to help people make informed decisions about their health and consider possibilities about which they may not have known or thought about."
The Interactive Meridian Tooth Chart has proven to be a very useful tool for health providers that take a whole-body approach to health and healing. Physicians and dentists may use the Meridian Tooth Chart located at TALKInternational.com/toothchart or order one of their own for their office and website.
For additional information about Mercury poisoning, the Interactive Meridian Tooth Chart, and Holistic Directory, visit TALKInternational.com
"Poisons in Your Mouth," a free seminar about holistic/biological dentistry, will be held on February 24 at 924 Westwood Blvd., Suite 505, Los Angeles, CA 90024. Call 310-208-4297 for reservations or visit DrRota.com.
About Dr. James Rota:
Dr. Rota, a practicing dentist for 45 years, has been a UCLA Assistant Professor and a pioneer in Holistic and Biological Dentistry. As a biological dentist for the past 25 years, he helped develop the protocols for safe mercury removal from the mouth, which are commonplace in biological dentistry today.
###