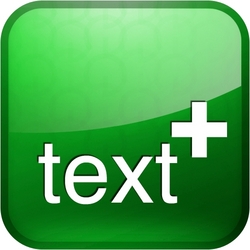 Marina del Rey, Calif. (PRWEB) January 4, 2010
GOGII, Inc. announces today the launch of textPlus, its popular next generation texting application, on the Android Market. Previously available only on the Apple App Store, the unique textPlus app now brings sponsor-supported free and unlimited messaging to Android users and allows them to have instant group "conversations" in text with friends on most U.S. carriers.
"We've already seen overwhelming consumer response to the textPlus app in the Apple App Store thanks to the millions of consumers who've embraced our game-changing features - from casual texters to the staggering number of consumers who text as their primary mode of communication," said Scott Lahman, CEO and co-founder of GOGII. "We're pleased to make textPlus available to Android users, and offer even more text-happy mobile consumers this tricked-out, next generation
texting service."
By leveraging GOGII's interactive messaging technology, textPlus allows both old-style texting - one-to-one conversations - and next generation texting - rich, engaging environments and instant group text conversations. A useful 'reply-all' feature, similar to email, turns texting into a chatroom that lets users make plans with several friends at once, introduce people to one another or just carry on a group conversation - all in text and all for free.
Additional features make it easy for Android texters to make textPlus their preferred SMS service, including the international ability to send free messages from abroad to friends in the U.S. using a U.S. 10-digit phone number and free Notifications when messages come into the app, even when closed. What's more, textPlus lets Android users communicate with friends who aren't using the app - they simply pay for texts through their existing carrier plan.
GOGII expects the textPlus Android app to be met with the same degree of consumer fervor on the Android Market that it has on the Apple App Store. To date, the textPlus app has already seen almost 3.5 million downloads, and over 350 million messages have been sent using the service since June. And while only the top 5% of applications in the Apple App Store reach 100,000 unique monthly visitors, textPlus exceeded that by over 7 times in its second month of release.
Coming soon to Android are textPlus "text addresses," which let users personalize texting and facilitate conversations, all without requiring a phone number.
The textPlus application can be downloaded for free from the Android Market.
GOGII, Inc. announced an $8.2 million Series B round of funding from Matrix Partners and Kleiner, Perkins, Caufield & Byers last month.
About textPlus
textPlus leverages GOGII's next generation text messaging platform to bring free, ad-supported one-to-one and group texting, and enables seamless interaction between textPlus users and their friends using regular text messaging (SMS). The service is currently available on the iPod touch and iPhone on the Apple App Store and on Android phones from the Android Market.
About GOGII (go-jee)
GOGII provides customers the next generation of text messaging through its flagship product, textPlus, the leading feature-rich and fun third-party text messaging application.
GOGII, Inc. is backed by venture capital firms Matrix Partners and Kleiner Perkins Caufield & Byers' iFund, which is exclusively focused on developing applications for Apple's products. GOGII, Inc. was founded in 2008 by the three founders of JAMDAT Mobile, the leading mobile entertainment publisher that was acquired by Electronic Arts in 2006.
###