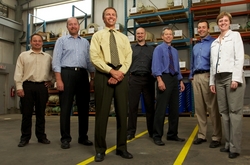 "Essentially, we're a think tank for gas compressor and gas generator solutions," said Trent Bruce, Partner. "And we needed to add a few more good thinkers."
(PRWEB) January 13, 2010
Determined to maintain the company's long held reputation as an innovative natural gas compressor supplier full of expert, customer-oriented employees, SAGE ENERGY CORP is adding three new staff members who bring a combined experience of over 75 years in pertinent industries. The recent hires are part of Alberta-based Sage Energy's campaign to expand the company's unwavering focus on delivering exceptional customer support along with its line of innovative gas compressor and gas generator solutions. A new name, new slogan and now new hires are initiatives intended to propel Sage Energy to a level of ultimate quality, service and innovation.
"Essentially, we're a think tank for gas compressor and gas generator solutions," said Trent Bruce, Partner. "And we needed to add a few more good thinkers."
The first of those good thinkers is Andrew Kavanagh, who boasts 22 years of service in the field as well as in sales, management and business development. In his role at Sage Energy, he'll liaison with the company's domestic and international clients to ensure they receive the best products and services for their needs.
Assisting the sales, applications and retrofit groups will be Bob Rinehart. Bob has decades of experience across an array of positions in the gas compression industry. He brings his vast knowledge not just to Sage Energy, but to the company's clients as well.
Scott Thackray will helm the expansion drive, using his twenty years experience successfully pinpointing customer needs and providing superior solutions to uncover new opportunities and deliver value-added packages to Sage Energy's customers. His problem-solving strengths will be an incredible asset to everyone who works with him.
"We couldn't be happier with our new hires," said Bruce. "They're a great addition to our already stellar team."
ABOUT SAGE ENERGY CORP
Since the company's inception as Concept Compression in 2002, it has grown to become a leading innovator in gas compression. Sage Energy offers clients a complete range of products, including rotary screw and reciprocating gas compressor packages, natural gas generators, and refrigeration compression. The service department is recognized as an industry leader providing total service solutions for everything from compressor packages and gas plants to engines and refrigeration plants. The company's vast experience, proven expertise and solid determination is dedicated to developing the gas compression products and services that work for their clients. From project inception to ongoing field services, Sage Energy brings smart solutions to all gas compression needs. To learn more about Sage, visit sageenergy.ca.
SAGE: Good People, Smart Solutions
For media inquiries, please contact:
Calgary Head Office: 403.250.8810
Attn: Michael Crawford
###