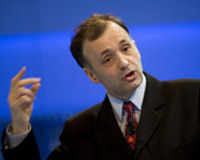 "Fractured families are bad for American society yet EVERY year about 4.5 million American adults and approximately one million children get caught up in the pain and devastation of divorce. Marriage in America isn't working any more.
(PRWEB) January 5, 2010
Campaign Launch: Today sees the launch of a campaign to reduce divorce rates amongst the next generation of American married couples.
Led by relationships expert Roy Sheppard, and backed up by new research, this campaign adopts a business-style 'Due-Diligence' approach to marriage.
"As unromantic as it may sound, especially in the lead up to Valentine's Day, no man or woman should marry until they've conducted 'Due-Diligence'". 'Due-Diligence' is the process widely used in the corporate world where potential business buyers 'check out' what they are told about the business they are looking to purchase. Seeing as marriage is the biggest 'deal' most people will ever enter into, it makes huge sense to conduct 'due-diligence' on your proposed partner." says Sheppard.
A 'Due Diligence Checklist' is available as a no-charge download to anyone who is planning on getting married in 2010. The campaign is also urging all family, friends and colleagues to forward the checklist to everyone they know who is planning to marry.
The download is available from http://www.RoySpeaks.com/DD
To support the campaign, Sheppard also commissioned a detailed survey (sample 1,231 adults). In response to this survey question "Your best friend is planning to marry the 'wrong' person – what would YOU say or do?"
88% of adults wouldn't say or do anything at all.
Summary of findings;

Over a quarter of adults have experienced disliking a friend's choice of husband or wife (27%). Over a quarter have also disliked a family members' choice (26%)
Only a small minority of the adults have told a friend or family member that they do not think they should marry their partner when they disagree with their marriage (12%)
Almost a third of the adults would not tell a friend or family member that they disagreed with their marriage for fear of upsetting them (31%)
Over one in five adults would tell a friend or family that they had suspicions their marriage was to breakdown if it did (22%)
Almost three quarters of the respondents agree that people should be more pragmatic and realistic when they decide to marry rather than allow 'love' to determine their decision (72%)
Over eight out of ten adults believe that with divorce being easier, people are less careful about entering into a marriage (84%)
Close to three quarters of the adults agree that being encouraged by others to be more pragmatic about entering into marriage would increase the likelihood of a successful and happy marriage (74%)
Sheppard says "I can't help wondering how many of this year's wedding guests will smile for the cameras but quietly be taking bets on how long the marriage lasts. Our research seems to confirm that the majority tend to wait for the 'train-wreck' to happen before we become a shoulder to cry on. Popping the question on Valentine's day may be incredibly romantic – but is it 'responsible'? Possibly not."
Latest US divorce figures (2007) report 2,230,000 divorces.
"Fractured families are bad for American society yet EVERY year about 4.5 million American adults and approximately one million children (the highest proportion under the age of 5) get caught up in the pain and devastation of divorce. Marriage in America isn't working any more.There is an urgent need to find a way to help stop 'bad' marriages from happening in the first place. " he says.
"With 74% of respondents agreeing that a more pragmatic approach to marriage would increase the likelihood of more successful and happy marriages, an answer could come from the world of business." Sheppard adds.
"This is why I created the 'Pre-Marriage Due-Diligence Checklist" download, as something for concerned friends and family to forward or print out and send (even anonymously) to anyone they know who is getting married. If something like this became the norm, I am convinced that more 'doomed' marriages could be averted. Some of the questions are deliberately difficult. They have been designed to show up any potential cracks in a relationship. There isn't a divorced man or woman on this planet who would want anyone to go through the pain of divorce. If this research and the Due Diligence Checklist stops just one 'bad' marriage from taking place, it will have been worth it." says Sheppard.
-ENDS –
NOTE TO EDITORS
The online research for Roy Sheppard was carried out between: December 3, 2009 and December 7, 2009. Sample: 1,231 Adults.
The full 90 page research findings can be downloaded from http://www.RoySpeaks.com/Pre-MarriageSurvey (This web link is not for publication)
A selection of comments from survey respondents is available here http://www.RoySpeaks.com/Pre-Comments
For US divorce statistics visit
http://www.census.gov/population/www/socdemo/marr-div/2004detailed_tables.html
And http://www.divorcemag.com/statistics/statsUS.shtml
About Roy Sheppard
Former BBC TV and radio reporter in the UK, Roy Sheppard is twice divorced, providing a perfect grounding for his work as a professional relationships coach and lecturer. He is a trained hypnotherapist and NLP specialist.
He has spoken at conferences all over the world. And has counselled countless men and women on solutions to their relationship problems. In 2008 he moderated 'Re-Con', an event for the retail real estate industry, attended by 53,000 delegates in Las Vegas.
For more information about Sheppard visit http://www.WorldClassModerator.com.
He has written widely for national newspapers and numerous magazines on all aspects of personal and professional relationships. He is the author of "Meet Greet & Prosper".
Sheppard also tackles relationship 'taboos' – in particular how to spot dangerous men and women. He is the author of "Venus: The Dark Side" (with Mary T Cleary). In America, the same book has the controversial title "That B*tch". Male and female readers have described it as; 'Astounding', 'An essential guide for men and women', '...a truly remarkable read' and '...should be part of the national curriculum'.
He has also authored numerous articles including "Mr Wrong: How to Find Him Out – FAST".
Sheppard is currently writing his next book. Online dating is a global phenomenon as millions try to find a life partner. Some are trying to find 'The One'. In this latest book, Sheppard coaches readers to BECOME 'The One' in order to be a 'better', more appealing and even a more desirable human being.
###