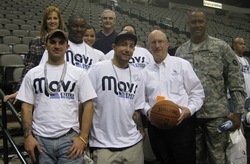 The soldiers were definitely the stars of the evening. Seeing their positive attitudes in the face of tremendous personal sacrifice really puts things in perspective
Leavenworth, Kan. (Vocus) January 5, 2010
Over 200 U. S. soldiers enjoyed courtside seats to watch the Dallas Mavericks battle the Phoenix Suns during the annual "Seats for Soldiers" event at the December 8 game, with care packages courtesy of Armed Forces Insurance (http://www.afi.org).
For more than an hour after the game, the soldiers mingled with some of the Mavericks' best-known talent—Shawn Marion, Dirk Nowitzki, Erick Dampier, Jose Barea and Jason Kidd among them—as well as team owner Mark Cuban.
Season ticket holders donated the seats for the many active duty soldiers in attendance, with the majority being wounded troops who were brought to the game from Brooks Army Medical Center in San Antonio, according to Kurt Seelbach, president and chief operating officer, AFI.
"The soldiers were definitely the stars of the evening. Seeing their positive attitudes in the face of tremendous personal sacrifice really puts things in perspective," Seelbach said.
The event was sponsored in part by Armed Forces Insurance, which will continue its sponsorship of "Seats for Soldiers" each year. In addition to several AFI gifts, the care packages included a personal note from Seelbach thanking the soldiers for their service.
About Armed Forces Insurance
AFI was founded in 1887 by military leaders with a single mission: to protect the property of those who protect our nation. The company provides premium quality, competitively-priced property and casualty insurance to military professionals throughout the United States and overseas. Headquartered in Leavenworth, Kansas, AFI understands that its subscribers have unique circumstances and insurance needs, enabling the company to offer a level of personalized service that's unequaled in the industry. AFI is the proud sponsor of Military Spouse magazine's 2010 Military Spouse of the Year Award, which recognizes the patriotism, professionalism and altruism of military spouses. For more information, visit the Web site at http://www.afi.org or call 1-800-495-8234.
Image cutline: AFI President and Chief Operating Officer Kurt Seelbach (front row, third from left), Vice President of Sales and Marketing Bill James (center, back row) and Director of Marketing and Public Relations Lori Simmons (top left) join several U. S. soldiers at the Dallas Mavericks "Seats for Soldiers" event on December 8.
###