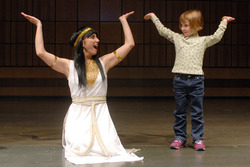 Corning, NY (Vocus) January 5, 2010
On Sunday, January 17, from 12:00 p.m. to 4:00 p.m., kids and adults alike can explore Egyptian glass and culture at Families Explore: Egypt, a free, educational and fun event at The Corning Museum of Glass.
The following activities run throughout the day, unless otherwise noted, and are included in Museum admission:

Write in hieroglyphics
Make a mineral mosaic
Play the Egyptian game, Senat
Build a block pyramid and decorate a mummy case
Make an amulet for mummification and create an Egyptian collar
Taste food from Egypt (free sample sizes) (12:00 p.m. to 2:00 p.m. only)
See Egyptian dance by Sahara Shimmer (1:30 p.m.)
Go on an Egyptian glass tour of the Glass Collection Galleries (2:00 p.m.)
The Family Exploration series encourages children and their families to explore the various cultures, ideas and stories surrounding the Museum's glass objects. A different culture or theme is featured each time.
Families who attend will receive a "passport," which they can bring to subsequent Family Exploration events to receive stamps. Those who collect six stamps during the year will enjoy a special gift from the Museum's GlassMarket.
All activities are included in the price of admission. Admission to the Museum is free for kids and teens 19 and under; admission for accompanying adults is $14.00 each. Area residents (who live in zip codes beginning with 148, 149, and 169) pay only $6.00. Adults can become Admission Only Members: pay admission once, sign up, and enjoy free admission through December 31, 2010.
There is no additional cost for Family Exploration activities. Please call Kristy Bartenstein at
(607) 974-3306 for further details.
The next Family Exploration event will focus on India, and will take place on February 21.
The Corning Museum of Glass (http://www.cmog.org) is home to the world's most comprehensive and celebrated collection of glass, with more than 45,000 objects reflecting 3,500 years of glassmaking history. An independent, non-profit, educational institution, the Museum is dedicated to the art, history, science, research and exhibition of glass. The Museum is open from 9:00 a.m. to 5:00 p.m. Kids and teens, 19 and under, receive free admission.
###