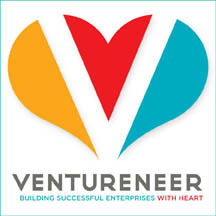 With jobs still hard to find, many people become entrepreneurs by necessity. Most wannabe entrepreneurs have similar questions so I developed this series of webinars to answer those questions. Geri Stengel, founder of Ventureneer
New York, NY (Vocus) January 5, 2010
New York, NY January, 5, 20010 -- With a new decade dawning, it's time to start afresh. For many that fresh start includes starting a new business either because the economy hasn't rebounded their way or because they've always wanted to be their own boss or because they have a great idea for a new product or service.
A series of three free webinars from Ventureneer will provide a road map for would-be entrepreneurs, helping them develop their ideas, evaluate their options, and come up with a business plan.
"With jobs still hard to find, many people become entrepreneurs by necessity," says Geri Stengel, founder of Ventureneer, who will present the webinars. "And I see a lot of recently and soon-to-be retired people who want to start small businesses. Most wannabe entrepreneurs have similar questions so I developed this series of webinars to answer those questions."
A boom in "entrepreneurialism," is on the way, especially among baby boomers, according to the
Kauffman Foundation, which advances entrepreneurship through research and education. Stengel can attest to that as well; previous sessions of this free three-part series were well-attended and well-received.
"Ventureneer provides a wealth of practical knowledge and information for those who are new to the Entrepreneurial venture, said Claudel Robert, ScanArc Solutions LLC, Smyrna, GA.
The Aspiring Entrepreneurs Series includes:

Entrepreneurship: Is It for Me? helps participants uncover the personal characteristics essential for entrepreneurial success, and shows them how to maximize their abilities. Students also learn how to fortify themselves for the hard work of starting up a business. Knowing what to expect improves the chance for success.
"Entrepreneurship: Is it for Me? is extremely helpful in trying to answer that question," said Mary-Anne Wolf, North Billerica, MA, North Billerica.

The free webinars are ideal for inventors, product creators, the under-employed, recent retirees, frustrated employees, and would-be entrepreneurs, in short, anyone who is thinking about striking out on their own.
"Learning how to start, grow and expand a small business is a life-long process, as successful entrepreneurs know," Stengel stated. "Online learning is an increasingly popular way to participate in that process and to acquire practical skills."
About Geri Stengel
Geri is founder of Ventureneer, an online education and peer support service. An adjunct professor at The New School, she honed her online experience at companies like Dow Jones and Physicians' Online. Geri co-founded the Women's Leadership Exchange and is president of Stengel Solutions, a consulting service for social-impact organizations.
About Ventureneer
Ventureneer.com provides non profit and small business advice as well as entrepreneurial and [non profit training] through a new approach to learning: a blend of traditional, formal instruction with informal, peer learning that takes advantage of Web 2.0 technology to capture and share knowledge. Ventureneer's customized blogs, virtual classes, peer-to-peer learning, coaching, web events and articles help entrepreneurs make faster, better decisions for their enterprises.
Contact:
Geri Stengel
212-362-3088
geri(at)ventureneer(dot)com
###