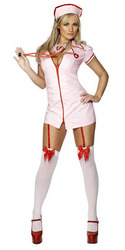 "I guess I feel entitled to a little tender loving care, seeing as I spend my days dishing it out."
(PRWeb UK) January 5, 2010
An extra-marital dating site in the UK has compiled a Top Ten of the main reasons medical professionals choose to have extra-marital affairs.
IllicitEncounters.com, which has in excess 400,000 members UK-wide, surveyed over 600 men and women to compile the list.
There are just over 8,000 people on the website who describe themselves as working in 'Healthcare or Medicine'. All major professional denominations were represented in the sample, from surgeons to staff nurses.
The sample were asked the question, "What were the three main reasons you decided to pursue an extra-marital relationship?". The IllicitEncounters.com research team analysed each individual answer, and the 10 most common themes are illustrated in the table below.
1st: To Feel Loved - The NHS has always had a difficult relationship with the public. Doctors certainly feel the weight of this. Having an affair guarantees them a space where they can recieve some much needed TLC.
QUOTE : "My work enviroment is pretty hostile. It's great to be able to retreat to someone who wants to see me!" M32*7**
2nd: Because They Are Estranged From Their Spouses - Unsociable hours mean that many medical professionals are not able to spend quality time with their partners. As a results, it seems common that many feel estranged from their partners.
QUOTE : "My husband and I work crazy hours. We really only see each other when we get into bed" M4**67
3rd: Because 'Life's Too Short' - Of all the professions we quizzed, this response was most common amongst doctors. Many said because of their profession they were very aware of their own mortality, and felt it important to grab any opportunity that came their way, no matter how risky.
QUOTE : "Life's too short. I hate seeing exciting opportunities go to waste." M67*43
4th: To Relieve Stress - Sex is a very effective stress reliever. Some respondents explained that things had gone stale in the bedroom with their current partner, and in desperation, they had turned to infidelity.
QUOTE : "My job is sooo stressful. My husband just doesn't provide the right amount of 'relief'!" M25*45*
5th: For The Thrill - Men and women who work in hospitals are used to taking risks - in fact, some find this feeling more than a little addictive. This inclination can easily transfer to their personal lives.
QUOTE : "I must admit, the fear of getting caught actually makes it more addictive" M56**3
6th: They Are More Able To Detach - Medical professionals often have to make decisions which can impact severly on a patients life. Detachment is an important coping mechanism for them. However, this ability to detach also makes it easier for them to evade the guilt that accompanies an affair.
QUOTE : "To be honest, I don't feel that guilty. I love my husband but when I'm with ___ don't think about him at all." M2*4*69
7th: They Receive More Attention - Doctors and nurses are well-known for featuring in the nation's fantasies. As a result, they receive a great deal more ivitations to stray than other professionals.
QUOTE : "I've always received a lot of attention in my white coat. It seems to be an turn-on for so many ladies." M56**4
8th: Opportunity - Some of our more honest respondents said they took a lover simply because they could. Several doctors recalled that being 'on-call' gave them a great excuse to slip away.
QUOTE : "Bceuase I can! I love women. I want to have as many as I can." M12*67*
9th: To Feel Cared For - Medical professionals spend their lives looking after other people. Out of hours, they are looking for someone who will look after them. If things are cold at home, they may seek something extra-marital where they can secure some comfort.
QUOTE : "I guess I feel entitled to a little tender loving care, seeing as I spend my days dishing it out." M67**4
10th: Because They Are More In Touch With Their Physical Needs - Many respondents talked of their affair the way they would a prescription. They decided to have one to fulfill a need. Doctors in general were suprisingly unemotional when discussing their extra-marital relationships, seeing them more as practical arrangements.
QUOTE : "I require more sex. It's that simple. I feel like I've discussed it enough with my partner. If he is not interested, I will go elsewhere." M3*65
Spokesperson for IllicitEncounters.com, Sara Hartley, comments, "Affairs are all about escapism. And there are few professionals who face a grimmer reality than those who work in hostpitals or surgeries. They deal with pain and emotional trauma on a daily basis."
"But opportunism also plays a role, especially for those working higher up as surgeons and heads of department, who can finacially afford to keep a mistress. And of course, unpredictable timetables offer a perfect alibi for cheating doctors and nurses."
IllicitEncounters.com is the UK's largest extra-marital dating site, and has been running since 2003.
###