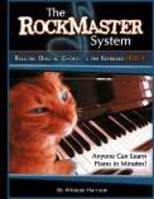 Brooklyn, NY (PRWEB) January 12, 2010
The United States Patent Office has announced that a second patent has been awarded to Winston Harrison for his innovative RockMaster System, a visual teaching method that allows beginning piano students to master chords and start playing within minutes. Harrison was awarded the patent for his unique chord shape diagram designs, providing an entirely new method of piano tablature for students; the first patent was awarded in 2006 for his chord changing formula, which revolutionized the way in which beginning piano students approached the musical educational process.
The RockMaster System uses visual representations of the finger positions for various chords instead of traditional musical notation, allowing students to intuitively grasp the relationship between the chords and the correct finger position during their very first lesson. The RockMaster formula requires no knowledge of music theory and no ability to read music; in fact, the youngest beginners can understand the concepts and start playing right away. This ground-breaking system is so successful in helping students master piano chording that it has even been incorporated by the New York City school system as part of their musical curriculum.
The secret of the RockMaster System is in its unique visual teaching method. Rather than spending days and weeks learning the basic positions of notes on the treble and bass clefs and repeating endless etudes, students are presented with an easy-to-understand pattern which they then imitate, positioning their fingers in a specific manner to play their very first chord. Other chords follow soon after as the system relates each chord to the next by adjusting the position slightly; the method is similar to that used to teach guitar chords to beginners and uses tabs rather than requiring students to learn the individual musical notes. This makes the system ideal for younger students who are often frustrated and dismayed by the traditional piano teaching process. Once the basic concepts are understood, music educators can easily incorporate musical theory and traditional notation into the RockMaster system, allowing students a head start on learning.
For musical professionals, the RockMaster System provides an easy means to express their ideas and demonstrate musical progressions to less-advanced performers. Songwriters find the RockMaster method especially useful since it allows even those with little or no piano experience to understand and play chords to complement the melody line; by learning one chord and relating its position to the other possible chords, songwriters can experiment with new and innovative musical ideas without years of theoretical training and experience.
Because students can start playing recognizable accompaniments right away, they are less likely to lose interest or to become bored with the process. Harrison's ingenious method teaches the specific finger positioning of each chord as a whole rather than focusing on specific notes and musical notation. The RockMaster System is designed to take advantage of the mind's own visual learning structure, teaching students to match patterns and positions rather than using the traditional note-by-note method that has frustrated so many aspiring piano players. The system is easy to learn and requires far less time than traditional methods; best of all, it requires no scales, no musical theory, and no time invested in learning to read music in order to begin playing. Students get a taste of musical performance from the very first lesson. For beginners and professionals alike, the RockMaster System offers unique advantages and a quick and easy point of entry into the world of musical performance.
Winston Harrison is a former computer programmer, a guitar player, and the author of a basic book on the RockMaster System. He is currently working on his second book, which will outline more advanced concepts for students and educators.
Contact:
Winston Harrison
Dellwin Publishing Co., Inc
P O Box 23391
Brooklyn, NY 11202-3391
718-596-6760
http://www.therockmastersystem.com
###