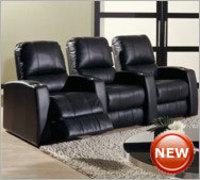 Palliser shares our vision in providing consumers the tools to make the most informed decision when buying furniture online and we appreciate their support with this initiative
Hollywood, FL (PRWEB) January 8, 2010
After the initial success of similar video displays on various Berkline home theater seating models, TheaterSeatStore will display approximately 30 of Palliser's top selling home theater seats, before being rolled-out to other manufacturers and products. General features are highlighted in a features video. Features specific to certain models will be displayed in various product videos.
"Palliser shares our vision in providing consumers the tools to make the most informed decision when buying furniture online and we appreciate their support with this initiative", commented Peter Goldstein, Vice President of Sales at TheaterSeatStore. "The sharp images and ability to playback feature demonstrations provides some of these tools along with sending swatch samples of the leather or fabric to our prospective customers."
The product video for the Palliser Pacifico configuration of seats displays the ease of using the power recline with chaise style footrest elevating with the push of a button. Additional models displayed will include amongst others, the Palliser Flashback, Palliser Sequelle, Palliser Trylogy, Palliser Epych, and Palliser Rhumba.
Palliser home theater seating models are unique in some respects where the seat arms on certain models are fixed or assembled to the base of the seat while the seat's arms for other models are separate or unassembled from the seat base. The arms of the unassembled seats can easily be clicked on or off the base of the seats as needed. Therefore, a row of three theater seat recliners can easily be converted into a three seat sofa. Most home theater seating manufacturers only offer assembled models. Additionally, Palliser also offers one of the largest varieties of leathers and fabrics in the industry.
The general consensus from the Consumer Electronics Show held in January 2010 in Las Vegas is that new products, especially 3-D television, will drive growth for 2010. This will result in an increase in demand for all home theater products including home theater furniture. With Black Friday 2009 online retail sales reported to have grown 41% over 2008, it is evident that consumers are turning to the internet for all shopping needs. TheaterSeatStore is banking on significant growth in interactive media for offerings online. Display video has evolved making it an effective tool to pitch products and is expected to become even more relevant as technology improves.
About TheaterSeatStore
TheaterSeatStore is the market leading retailer of home theater furniture products, motion furniture; massage chairs, and sofa and sectional sets. The company offers a wide range of products and services designed to enhance and decorate a dedicated home theater environment. TheaterSeatStore is a member of the National Home Furnishing Association and Western Home Furnishings Association, and is an A-rated member of the Better Business Bureau for over 3 years.
###